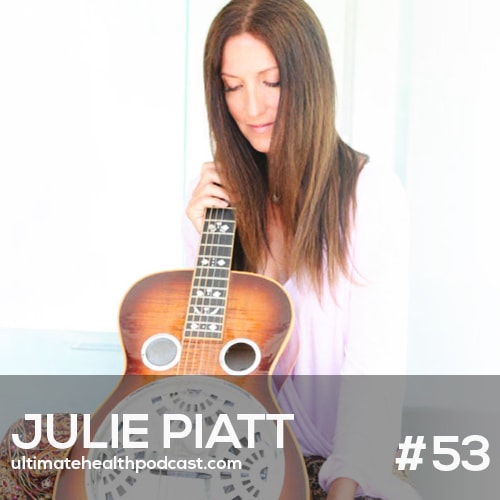 On this week's episode, we are speaking with Julie Piatt aka Srimati. She is a plant-based chef, singer, songwriter, spiritual leader, and a mother of four.
Julie and her husband, Rich Roll, coauthored The Plantpower Way. This book is a family lifestyle guide on the power of plant-based eating, which includes 120 nutritious recipes.
In this episode, we discuss:
Living in Alaska, a very harsh environment
The origin of Julie's spiritual name and what it means (Srimati)
Julie's spiritual path and rebellious years
The role of music in Julie's life
Life as a creative and pushing through the tough times
The illusion of security in today's world
The importance of spiritual connection
The goal is for your life to become a meditation
How Julie healed a large cyst in her neck, naturally
Your unbalanced microbiome is causing your unhealthy cravings
Family dynamics when it comes to food
Julie's morning routine
Relaxing a bit when it comes to following recipes
What's up and coming in Julie's world?
Homeschooling, the next frontier in children's education
The traditional school system is broken
Children need to experience creative play
The unschooling movement
Related Links:
Sunwarrior
Julie Piatt's (SriMati) website
Follow SriMati on Facebook, Instagram, and Twitter
Julie Piatt & Rich Roll – The Plantpower Way (book)
Limitless Energy (Without Coffee) Resource
TUHP on Periscope
Listen to Rich Roll previously on TUHP (episode #033)
Sir Ken Robinson (books)
Reggio Emilia approach
Jackson Pollock
Race To Nowhere (documentary)
Related episodes:
141: Deepak Chopra – You Are The Universe • A Day In The Life of Deepak • What Is Spirituality?
277: Marianne Williamson – A Course In Miracles • Self-Care vs. Selfishness • Transforming Politics
078: Dr. Robynne Chutkan – Microbiome 101 | Stop Sanitizing Yourself Sick | Having A Dog Will Boost Your Health
085: Gabrielle Brick – Raising Kids, The Healthy Way | Finding The Middle Ground | Taking Time For Self Care
172: Charlie Hoehn – Play Your Anxiety Away • Find Work That Doesn't Feel Like Work • Intentional Acts Of Kindness
Note: Some of the links above are affiliate links. Making a purchase through these links won't cost you anything but we will receive a small commission. This is an easy, free way of supporting the podcast. Thank you!
How can you support our podcast?
1. Apple users, please subscribe and review our show on Apple Podcasts, we make sure to read them all. Android users, be sure to subscribe to our show on Google Podcasts. Subscribers never miss any of the action 😉
2. Tell a friend about The Ultimate Health Podcast. They will surely thank you later. You can use the envelope button below to email a friend or tell them about TUHP in person.
3. Join TUHP Facebook community (FREE). This is where we all stay in touch and ask questions in between episodes. Join our community.
4. Follow our adventures on our favourite social media platform, Instagram.
5. Download The Ultimate Health Podcast app (FREE). This way you'll have our whole library of episodes right at your fingertips. Download our iOS/Apple app or our Android app.
6. Share using the buttons below.
Thank you!