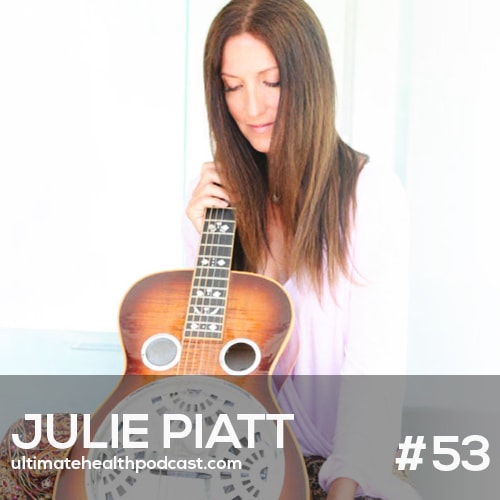 On this week's episode, we are speaking with Julie Piatt aka Srimati. She is a plant-based chef, singer, songwriter, spiritual leader, and a mother of four.
Julie and her husband, Rich Roll, coauthored The Plantpower Way. This book is a family lifestyle guide on the power of plant-based eating, which includes 120 nutritious recipes.
In this episode, we discuss:
Living in Alaska, a very harsh environment
The origin of Julie's spiritual name and what it means (Srimati)
Julie's spiritual path and rebellious years
The role of music in Julie's life
Life as a creative and pushing through the tough times
The illusion of security in today's world
The importance of spiritual connection
The goal is for your life to become a meditation
How Julie healed a large cyst in her neck, naturally
Your unbalanced microbiome is causing your unhealthy cravings
Family dynamics when it comes to food
Julie's morning routine
Relaxing a bit when it comes to following recipes
What's up and coming in Julie's world?
Homeschooling, the next frontier in children's education
The traditional school system is broken
Children need to experience creative play
The unschooling movement
Links to things we mentioned:
Sunwarrior <== 10% off all Sunwarrior products (free shipping over $100)
Julie Piatt's website
Julie Piatt & Rich Roll – The Plantpower Way (book)
Limitless Energy (Without Coffee) Resource
TUHP on Periscope
TUHP Episode 033: Rich Roll – Anti-Hack Your Life | Mood Follows Action | Hard Work > Talent
Sir Ken Robinson
Reggio Emilia approach
Jackson Pollock
Race To Nowhere (documentary)
How can you support our podcast?
1. Subscribe and review our show on iTunes and Stitcher. We make sure to read them all.
2. Tell a friend about The Ultimate Health Podcast. They will surely thank you later.
3. Share using the buttons below.
Thank you!