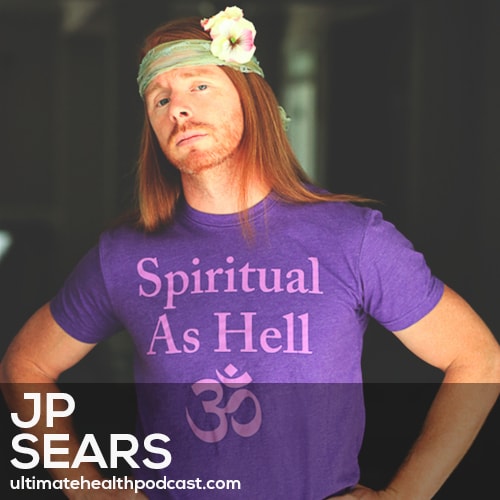 JP Sears is an emotional healing coach, international teacher, world traveler, and curious student of life. His work is intended to empower people to empower themselves to live more meaningful lives.
JP makes comedy videos known as his 'Ultra Spiritual Life' series. His videos are entertaining and also carry important underlying messages.
In this episode, we discuss:
Combining humour with healing
Humour is a language of connection
Embedding deeper messaging within humour
Getting defensive is part of being a human
Was JP always the funny kid in class?
Satirical comedy: A balance between making people laugh and making them angry
Betting on your authenticity = winning
We crave to feel
It's impossible for us to have an emotional reaction to anything that we don't see ourselves in
The victim mentality is a big problem in our society
Our emotions are always here to help us… even the "bad ones"
Stuck emotions are like food stuck in your digestive tract
Laugher is a wonderful biohack to a healthier psychology and physiology
Laughing at ourselves, in a healthy way
Show sponsors:
Sunwarrior <== 20% off all Sunwarrior products & free shipping over $50 (US only)
Raw Elements <== 10% off all Raw Elements products – Apply the code TUHP at checkout (free shipping over $100)
Thrive Market <== As a new customer you get a free 30-day membership, 25% off your order, and free shipping (US only)
Related links:
JP Sears – How to Be Ultra Spiritual: 12 1/2 Steps to Spiritual Superiority (book)
JP Sears' YouTube Channel – AwakenWithJP
JP Sears' website – Awaken With JP
Follow JP Sears'on Facebook, Instagram, and Twitter
Higher Education – Ultra Spiritual Life episode 58
How To Go Paleo – Ultra Spiritual Life episode 54
How To Get Offended – Ultra Spiritual Life episode 52
John McMullin – Journeys of Wisdom
C.H.E.K Institute
Related episodes:
322: Christine Hassler – Expectation Hangover, Overachieving & People Pleasing, Overcoming Depression
321: Neil Pasricha – You Are Awesome, Intentional Living, Becoming Anti-Fragile
313: Chase Jarvis – Creativity Is A Habit (Not A Skill) Available To Everyone
312: James Altucher – Reinvent Yourself, Defining Freedom, Comedians See The Truth
299: Drew Manning – Complete Keto, Embracing Vulnerability As A Strength, Learn To Love Yourself
Note: Some of the links above are affiliate links. Making a purchase through these links won't cost you anything but we will receive a small commission. This is an easy, free way of supporting the podcast. Thank you!
How can you support our podcast?
1. Apple users, please subscribe and review our show on Apple Podcasts, we make sure to read them all. Android users, be sure to subscribe to our show on Google Podcasts. Subscribers never miss any of the action 😉
2. Tell a friend about The Ultimate Health Podcast. They will surely thank you later. You can use the envelope button below to email a friend or tell them about TUHP in person.
3. Join TUHP Facebook community (FREE). This is where we all stay in touch and ask questions in between episodes. Join our community.
4. Follow our adventures on our favourite social media platform, Instagram.
5. Download The Ultimate Health Podcast app (FREE). This way you'll have our whole library of episodes right at your fingertips. Download our iOS/Apple app or our Android app.
6. Share using the buttons below.
Thank you!