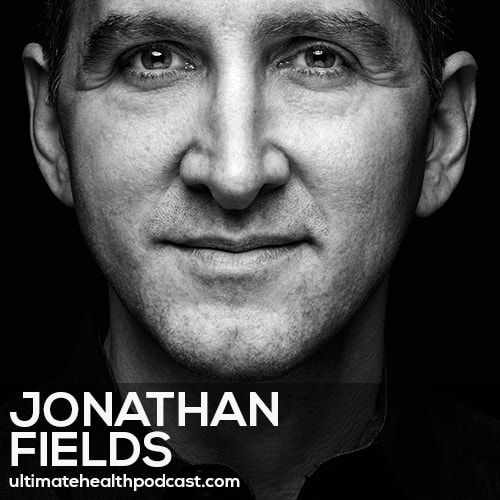 Jonathan Fields (IG: @jonathanfields) is dad, husband, award-winning author, entrepreneur, host of top-ranked Good Life Project® podcast and creator of the Sparketypes™, a set of archetypes designed to reveal the source-code for the work you're here to do.
In this episode, we discuss:
The most rewarding experience of Jonathan's life
Rekindling his love for physically making things with his hands
The joy of anticipation
Yearning to create
Why there's a growing community of makers and crafters
Jonathan is 100% Maker
What am I doing with my life?
Creating the Sparketype assessment
What drives you?
Exploring the 10 different Sparketypes
Maker – making ideas manifest
Scientist – driven to solve
Identifying your primary and shadow Sparketypes
Maven – driven to learn
Essentialist – driven to distill
The difference between passion and Sparketypes
Performer – driven to perform
Warrior – drawn to lead
Sage – driven to teach
Advocate – driven to give voice to ideas or beings
Advisor – driven to work in an intimate, hands-on way
Nurturing – driven to give care
Marni & Jesse's Sparketypes
The Creation | Elevation Spectrum
Any given Sparketype can be expressed in various ways
Change the way you build your life
Show sponsors:
Sproos <== 20% off your first Sproos order (free shipping on orders over $40)
Thrive Market <== Get your membership for as low as $5 a month & receive $20 in shopping credit with a 1 year membership (US only)
Related links:
Take the FREE Sparketype Assessment
Jonathan Fields' website
Good Life Project
Good Life Project Podcast
Follow Jonathan Fields on Facebook, Instagram, and Twitter
Listen to Jonathan Fields previously on TUHP (episode #123)
Jonathan Fields – How to Live a Good Life (book)
Jonathan Fields – My Good Life Journal (book)
Jonathan Fields – Uncertainty (book)
Jonathan Fields – Career Renegade (book)
The Tim Ferriss Show – Mr. Money Mustache
Bullet Journal Notebook
Ryder Carroll – The Bullet Journal Method (book)
Listen to Ryan Nicodemus (The Minimalists) previously on TUHP (episode #132)
Listen to Dave Asprey (Bulletproof Radio) previously on TUHP (episode #159 & #61)
Listen to Chris Kresser (Revolution Health Radio) previously on TUHP (episode #247)
The Mental Illness Happy Hour (podcast)
Related episodes:
279: Sally Hogshead – How To Fascinate • Unlearn Boring • Finding Balance In The Workplace
252: Srinivas Rao – Creating For An Audience Of One • Creativity Leads To Happiness • Cognitive Bandwidth
243: Susan David – Emotional Agility • The Tyranny Of Positivity • Understanding Guilt & Shame
242: Sarah Knight – You Do You • Happiness In Imperfection • Managing Anxiety
207: Gretchen Rubin – Are You An Upholder, Questioner, Obliger Or A Rebel?
Note: Some of the links above are affiliate links. Making a purchase through these links won't cost you anything but we will receive a small commission. This is an easy, free way of supporting the podcast. Thank you!
How can you support our podcast?
1. Apple users, please subscribe and review our show on Apple Podcasts, we make sure to read them all. Android users, be sure to subscribe to our show on Google Podcasts. Subscribers never miss any of the action 😉
2. Tell a friend about The Ultimate Health Podcast. They will surely thank you later. You can use the envelope button below to email a friend or tell them about TUHP in person.
3. Join TUHP Facebook community (FREE). This is where we all stay in touch and ask questions in between episodes. Join our community.
4. Follow our adventures on our favourite social media platform, Instagram.
5. Download The Ultimate Health Podcast app (FREE). This way you'll have our whole library of episodes right at your fingertips. Download our iOS/Apple app or our Android app.
6. Share using the buttons below.
Thank you!