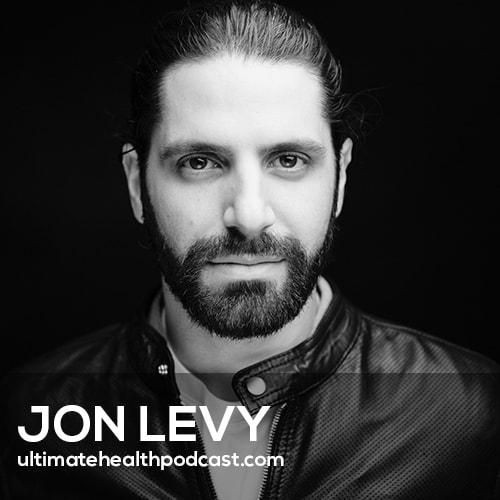 Jon Levy (IG: @jonlevytlb) is a behavioral scientist best known for his work in human connection, trust and influence.
He's the Author of the recently released New York Times bestseller, You're Invited: The Art & Science of Cultivating Influence. In it Jon explores how our ability to impact anything from longevity, and business, to social causes are a byproduct of our relationships, trust and a sense of belonging.
Watch the full video version of this conversation below.
In this episode, we discuss:
What defines the quality of our lives?
Growing up an outcast and longing for a meaningful community
What is locus of control?
It's easy to get people's attention, it's hard to get their interest
Generous people are successful
The four qualities that get the attention of industry leaders and draw them in
The first Influencers Dinner
The Ikea Effect
Bringing together extraordinary people
How to connect with influential people
Applying behavioural science to real life
The secret to managing quality relationships
The vulnerability loop
Ask a quick question first
Find ways to invest effort into one another
How many friends do you have?
Who do you giggle with?
Introducing Jon's wife to the Influencers Community
Connect with people over shared interests
Is this activity awe inspiring?
Networking sucks
Broken heart syndrome
Modern life isn't healthy
Invite someone for a walk
Show sponsors:
Paleovalley <== 15% off all Paleovalley products by using the code ultimatehealth at checkout
Organifi <== 20% off all Organifi products
LMNT <== Get your LMNT Sample Pack for the cost of shipping (5 dollars in the US)
Related links:
Jon Levy – You're Invited (book)
Jon Levy's website
Follow Jon Levy on Facebook, Instagram, and Twitter
Jon Levy – 2 AM Principle (book)
Nicholas A. Christakis, M.D., Ph.D., M.P.H., and James H. Fowler, Ph.D. – The Spread of Obesity in a Large Social Network over 32 Years (study)
Wisdom Unlimited
Adam Grant – Give and Take (book)
Jennifer Miller – Want To Meet Influential New Yorkers, Invite Them To Dinner (article)
What Makes Us Influential? (Ted Talk)
Matthew Lieberman – Why It Hurts to Be Left Out The Neurocognitive Overlap Between Physical and Social Pain (study)
Paul Zak – Trust Factor (book)
Related episodes:
Psychotherapist Reveals How to Be Mentally Strong in a World of Change & Uncertainty | Julia Samuel (#423)
Tal Ben-Shahar on the Science of Being Happier (#409)
Arianna Huffington on Ending Burnout and Increasing Well-Being With Microsteps (#399)
378: Marta Zaraska – Growing Young Through Friendship, Optimism & Kindness
239: Neil Strauss – The Long Road To Success • Compartmentalize Your Week • Your Community Shapes You
How can you support our podcast?
1. Apple users, please subscribe and review our show on Apple Podcasts, we make sure to read them all. Android users, be sure to subscribe to our show on Google Podcasts. Subscribers never miss any of the action 😉
2. If you'd prefer to watch vs listen to the interviews, head over to our YouTube channel and enjoy the full video conversations. Be sure and subscribe while you're there.
3. Tell a friend about The Ultimate Health Podcast. They will surely thank you later. You can use the envelope button below to email a friend or tell them about TUHP in person.
4. Join TUHP Facebook community (FREE). This is where we all stay in touch and ask questions in between episodes. Join our community.
5. Follow our adventures on our favourite social media platform, Instagram.
6. Download The Ultimate Health Podcast app (FREE). This way you'll have our whole library of episodes right at your fingertips. Download our iOS/Apple app or our Android app.
7. Share using the buttons below.
Thank you!