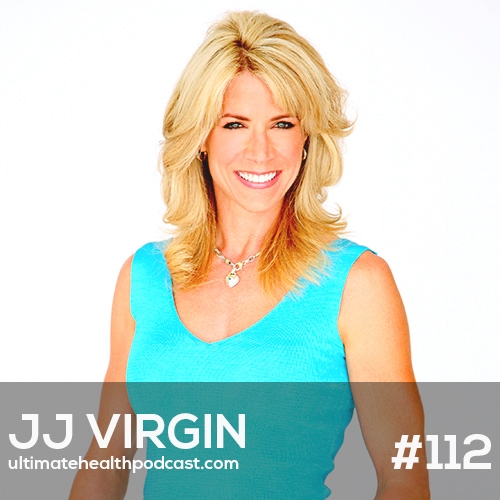 JJ Virgin is a New York Times bestselling author, a prominent fitness and nutrition expert, public speaker and media personality.
JJ is internationally recognized as an expert in overcoming weight loss resistance and has helped thousands lose weight fast by addressing food allergies, sensitivities and intolerances.
JJ is a board certified nutrition specialist through The American College of Nutrition, she's board certified in holistic nutrition, and she's a certified nutrition and fitness specialist.
In this episode, we discuss:
Fat doesn't make you fat, sugar makes you fat
It's not about the calories in your food, it about what those calories tell your body to do
Is the glycemic index useless?
Glucose gives you fuel and fructose makes you fat
Take it easy on the fruit
What are the right sugars?
All carbs (except for fibre) turn to sugar in your body
You can think of milk as liquid sugar
How addictive is sugar?
Fat and sugar don't mix
Research shows weighing yourself daily leads to better weight maintenance
How to know if you are a fat burner
Stop eating every 2-3 hours
Natural sweeteners with health benefits
Honey and molasses are not health foods
Agave is the worst natural sweetener, it will make you fat and hungry
Artificial sweeteners mess with your gut microbiome
Eating out, the healthy way
Related links:
Sunwarrior <== 20% off all Sunwarrior products & free shipping over $50 (US only)
JJ Virgin's Sugar Impact Diet (book)
JJ Virgin's website
Follow JJ Virgin on Facebook, Instagram, and YouTube
JJ Virgin's Sugar Impact Diet Cookbook (book)
JJ Virgin – The Virgin Diet (book)
JJ Virgin – The Virgin Diet Cookbook (book)
Paleovalley's 100% Grass Fed Beef Snack Sticks
Related episodes:
294: Dr. Sara Gottfried – Brain Body Diet, Start To Surrender, Reset With Intermittent Fasting
292: Chalene Johnson – 131 Method • Family Comes First • Stop The Food Rules
223: Max Lugavere – Alzheimer's And The Ketogenic Diet • Genius Foods • Stop Skimping On Sleep
178: Mark Sisson – Ketosis Curbs Hunger • The Healthiest Oil • Reboot Your Metabolism
174: Leanne Vogel – Get Fat-Adapted • What's A Carb Up? • Vegans Can Go Keto, Too
Note: Some of the links above are affiliate links. Making a purchase through these links won't cost you anything but we will receive a small commission. This is an easy, free way of supporting the podcast. Thank you!
How can you support our podcast?
1. Apple users, please subscribe and review our show on Apple Podcasts, we make sure to read them all. Android users, be sure to subscribe to our show on Google Podcasts. Subscribers never miss any of the action 😉
2. Tell a friend about The Ultimate Health Podcast. They will surely thank you later. You can use the envelope button below to email a friend or tell them about TUHP in person.
3. Join TUHP Facebook community (FREE). This is where we all stay in touch and ask questions in between episodes. Join our community.
4. Follow our adventures on our favourite social media platform, Instagram.
5. Download The Ultimate Health Podcast app (FREE). This way you'll have our whole library of episodes right at your fingertips. Download our iOS/Apple app or our Android app.
6. Share using the buttons below.
Thank you!