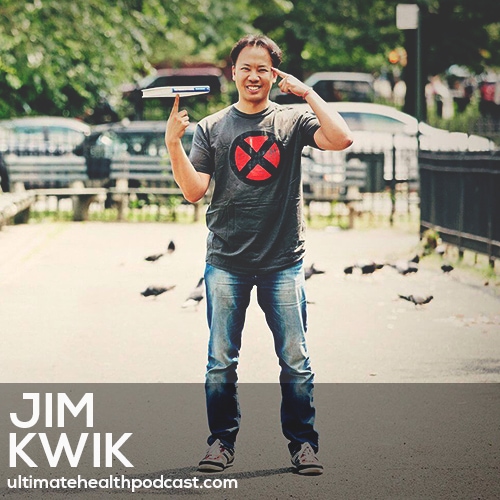 Jim Kwik is the founder of Kwik Learning and a world expert in speed-reading, memory improvement, brain performance, and accelerated learning. For two decades he's served as the mental coach to top celebrities and CEOs in entertainment, technology, education, and business.
In this episode, we discuss:
How Jim overcame 2 head injuries
The key to a better memory
Are you living like a thermometer or a thermostat?
4 keys to a better mindset
The difference between and amateur and a champion
The ultimate emotion… gratitude
Masters practice the fundamentals
Foods that boost your brain
Jim's brain tea recipe
Jim's morning routine
Start your day with success by making your bed
The power of intention
Making sleep a priority
Information fatigue syndrome/information anxiety
Say no to good so you can say yes to great
A skill to master for the 21st century – the ability to learn faster
A not-to-do list
Multitasking is a myth
Live longer by becoming a lifelong learner
The steps to learning a new subject or skill faster
Schools aren't changing with the rest of the world
You learn by creating and getting involved
All learning is state dependent
Learn as if you are going to teach it to someone
Leaders are readers
Show sponsors:
Sunwarrior <== 20% off all Sunwarrior products & free shipping over $50 (US only)
CoreChair <== 15% off your CoreChair purchase by using the code tuhpcc at checkout (free shipping in North America)
Related links:
Jim Kwik's website
Kwik Brain Podcast
Follow Jim Kwik on Facebook, Instagram, and Twitter
The Five Minute Journal (book)
The Five Minute Journal app (iOS & Google Play)
Listen to UJ Ramdas previously on TUHP (episode #62)
Listen to Deepak Chopra previously on TUHP (episode #141)
Listen to Dr. Joseph Mercola previously on TUHP (episode #148)
Will Smith treadmill video
Listen to Shawn Stevenson previously on TUHP (episode #27 & #52)
Listen to Arianna Huffington previously on TUHP (episode #107)
Gary Keller & Jay Papasan – The ONE Thing (book)
Greg McKeown – Essentialism (book)
Stephen Covey – The 7 Habits of Highly Effective People (book)
Rumi
Wim Hof (books)
Peter Thiel & Blake Masters – Zero to One (book)
Steven Kotler & Jamie Wheal – Stealing Fire (book)
This episode was engineered and edited by Jason Sanderson at Podcast Tech
Related episodes:
321: Neil Pasricha – You Are Awesome, Intentional Living, Becoming Anti-Fragile
308: Hal Elrod – The Miracle Equation, Become Emotionally Invincible, Do Work That You Love
296: Dr. Joe Dispenza – Becoming Supernatural, Reprogram Your Mind, Trust Your Intuition
161: JJ Virgin – Adopting A Miracle Mindset
172: Charlie Hoehn – Play Your Anxiety Away • Find Work That Doesn't Feel Like Work • Intentional Acts Of Kindness
Note: Some of the links above are affiliate links. Making a purchase through these links won't cost you anything but we will receive a small commission. This is an easy, free way of supporting the podcast. Thank you!
How can you support our podcast?
1. Apple users, please subscribe and review our show on Apple Podcasts, we make sure to read them all. Android users, be sure to subscribe to our show on Google Podcasts. Subscribers never miss any of the action 😉
2. Tell a friend about The Ultimate Health Podcast. They will surely thank you later. You can use the envelope button below to email a friend or tell them about TUHP in person.
3. Join TUHP Facebook community (FREE). This is where we all stay in touch and ask questions in between episodes. Join our community.
4. Follow our adventures on our favourite social media platform, Instagram.
5. Download The Ultimate Health Podcast app (FREE). This way you'll have our whole library of episodes right at your fingertips. Download our iOS/Apple app or our Android app.
6. Share using the buttons below.
Thank you!