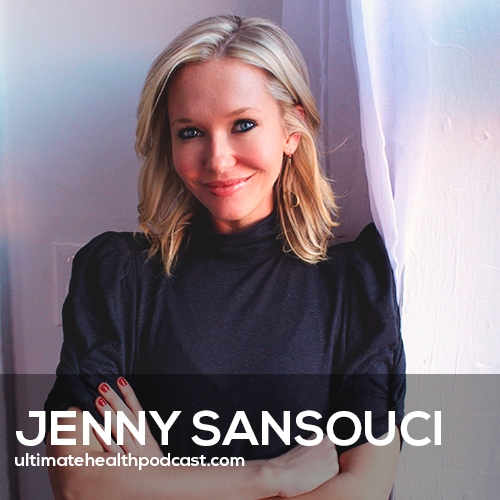 Jenny  Sansouci (IG:
@jennysansouci
)  is the author of
The Rebel's Apothecary: A Practical Guide to the Healing Magic of Cannabis, CBD, and Mushrooms
.
She's a certified health coach and creator of the wellness blog Healthy Crush, where she's been writing since 2008.
Jenny is a graduate of the Institute for Integrative Nutrition, and has been trained by functional medicine doctor  Frank  Lipman, MD in New York City.
(Subscribe in Apple Podcasts)
(Subscribe in Google Podcasts)
In this episode, we discuss:
Jenny's dad getting diagnosed with stage 4 pancreatic cancer
Starting the blog, Healthy Crush
Researching cannabis & medicinal mushrooms for cancer
Cannabis oil can be used to help relieve the side effects of chemotherapy
Cannabis has always been used as a medicine
The difference between hemp & marijuana
What are turpenes?
CBD isolate is different than a full spectrum CBD product
The benefits of CBD
How skin receptors interact with cannabis molecules
If you are new to CBD, start with a tincture
Microdosing with THC
Medicinal mushrooms for everyday use
The benefits of culinary mushrooms: shiitake, lion's mane, & maitake
What does dual extracted mean?
What are the active compounds in medicinal mushrooms?
Chaga & reishi are immune balancing mushrooms
Button, cremini & portabellas are the same species of mushroom
Medicinal mushrooms vs. psychedelic magic mushrooms
Research shows psilocybin has positive benefits for mental health & depression
Don't experiment with psychedelics on your own, work with a trained guide
Jenny's daily cannabis & medicinal mushroom routine
Jenny's dad's pancreatic cancer update
AHCC supplementation
How full extract cannabis oil (aka Rick Simpson oil) helps with nausea & appetite
Before buying CBD products review third party lab tests
Show sponsors:
Beekeeper's Naturals <== 15% off all Beekeeper's Naturals products (free shipping on orders $60 or more)
Sunwarrior <== 20% off all Sunwarrior products & free shipping over $50 (US only)
Organifi <== 20% off all Organifi products
Perfect Keto <== 20% off all Perfect Keto products (free shipping in the US)
Related links:
Jenny Sansouci – The Rebel's Apothecary: A Practical Guide to the Healing Magic of Cannabis, CBD, and Mushrooms (book)
Jenny Sansouci's website (Healthy Crush)
Follow Jenny Sansouci on Facebook, Instagram, and Twitter
Healthy Crush Cancer Resources (Jenny's website)
Listen to Dr. Frank Lipman previously on TUHP (episode #129)
Dr. Frank Lipman (books)
Listen to David Wolfe previously on TUHP (episode #014)
David Wolfe (books)
Four Sigmatic <== Save 15% off all Four Sigmatic products + free shipping on orders over $100
Related episodes:
303: Emily Fletcher – Stress Less… Accomplish More, Mindfulness vs. Meditation, Secrets To Manifesting
295: Dr. Andrew Weil – Cooking As A Form Of Meditation, Moods Are Contagious, Microdosing Psilocybin
280: Dr. Josh Axe – Keto Diet • Treating Cancer With Food • Collagen Is Essential
259: Dr. Gabor Maté – Trauma, Addiction, & The Use Of Psychedelics
143: Tero Isokauppila – Medicinal Mushrooms Have The Power To Regulate Your Immunity, Boost Your Brain, And Improve Your Gut Health
Note: Some of the links above are affiliate links. Making a purchase through these links won't cost you anything but we will receive a small commission. This is an easy, free way of supporting the podcast. Thank you!
How can you support our podcast?
1. Apple users, please subscribe and review our show on Apple Podcasts, we make sure to read them all. Android users, be sure to subscribe to our show on Google Podcasts. Subscribers never miss any of the action 😉
2. Tell a friend about The Ultimate Health Podcast. They will surely thank you later. You can use the envelope button below to email a friend or tell them about TUHP in person.
3. Join TUHP Facebook community (FREE). This is where we all stay in touch and ask questions in between episodes. Join our community.
4. Follow our adventures on our favourite social media platform, Instagram.
5. Download The Ultimate Health Podcast app (FREE). This way you'll have our whole library of episodes right at your fingertips. Download our iOS/Apple app or our Android app.
6. Share using the buttons below.
Thank you!