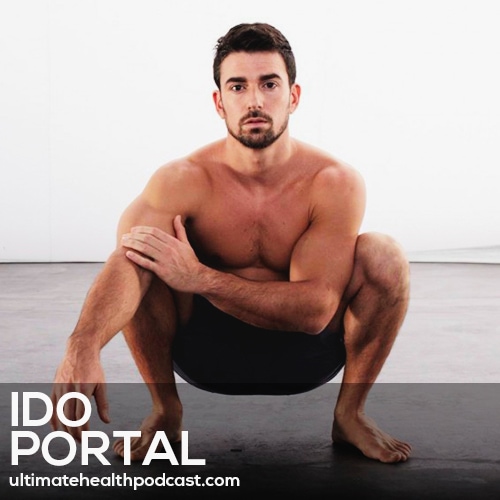 Ido Portal has always been obsessed with the physical.
His obsession isn't with a specific discipline such as martial arts or strength… his passion is movement.
After searching around the world for movement teachers Ido came up dry and decided to become the person he was looking for.
Over the years he's traveled the world both teaching and studying from a variety of teachers: from osteopaths, manual therapists and MD's to professional dancers, yogis, athletes, circus performers, and fighters.
Ido's workshops became very popular and he conducts a yearly event, The Movement Camp.
A community and culture developed around his ideas but more importantly around movement – movement culture.
In this episode, we discuss:
Ido's childhood
Who inspires Ido, past and present
Movement is synonymous with life
Ido's true passion
How do we know if we are getting enough steps in each day?
What does Ido eat?
Ido's thoughts on the vegan diet
Ido sleeps 9 hours a night and naps
Taking minerals to combat stress
Humans are complex, fragile beings
The importance of being in a tribe
How do our movement patterns change as we age?
Don't stop playing
How to bring play back into your life
Don't take yourself too seriously
The costs associated with not moving
It's never too late to start moving
How movement impacts your brain
Humans are the best movers on the planet
The importance of human touch
Ido's morning routine
Related links:
Ido Portal's website
Fitbit
Stephen Jepson
CrossFit
Squatty Potty*
Show sponsors:
CoreChair <== Apply the code tuhpcc at checkout for your listener discount (free shipping in North America)*
Sunwarrior <== 10% off all Sunwarrior products (free shipping over $100)*
Note: Links marked with an asterisk (*) are affiliate links. Making a purchase through these links won't cost you anything but we will receive a small commission. This is an easy, free way of supporting the podcast. Thank you!
How can you support our podcast?
1. Apple users, please subscribe and review our show on iTunes, we make sure to read them all. Android users, be sure to subscribe to our show on Google Play Music. Subscribers never miss any of the action 😉
2. Tell a friend about The Ultimate Health Podcast. They will surely thank you later. You can use the envelope button below to email a friend or tell them about TUHP in person.
3. Join TUHP Facebook group (FREE). This is where we all stay in touch and ask questions in between episodes. Join our community.
4. Our favourite social media platform is Instagram. Follow our adventures.
5. Download our Habits app for iOS. You choose the healthy habits you want to implement and maintain and our app will help keep you on track. Download Habits app.
6. Share using the buttons below.
Thank you!