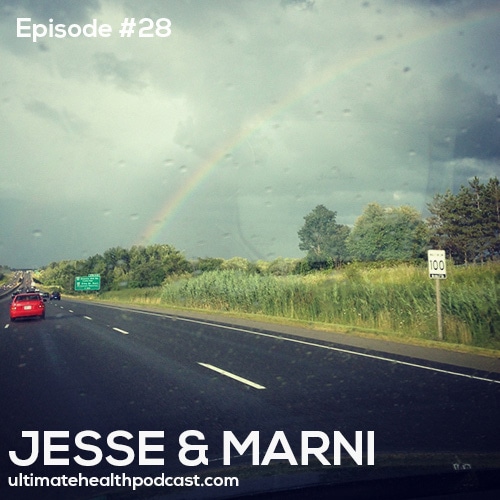 Last weekend we took a road trip up north for a mini vacation. On the Monday before we came home, Marni put on a plant-based cooking demo for over 160 people.
On the way home, after stopping for lunch, we recorded this minicast in the car (parked) using Jesse's iPhone. We share how we stay healthy on the road!
In this episode, we discuss:
The key is to focus on breakfast and snacks
Planning ahead is key
Healthy breakfast bowls
The power of a shaker bottle and a scoop of protein powder
Save your superfood sample packs for the road
Keep healthy bars in your glove box, purse or backpack
If you have the space, bring along a high speed blender
Make sure you have access to high quality water
Related Links:
HappyCow website
HappyCow mobile apps
Vega (supplements)
Sunwarrior <== 10% off all Sunwarrior products & free shipping over $100
Giddy Yoyo
Genuine Health (supplements)
Larabar (snacks)
SeaSnax (snacks)
Nutribullet
Findaspring.com
LesserEvil – Buddha Bowl Popcorn (snacks)
Mountain Valley Spring Water
Listen to 023: Smoothies, Juices, Elixirs & Everything In Between
Related episodes:
005: Julie Morris – Optimizing Your Health With Superfoods
094: Tess Masters (The Blender Girl) – The Perfect Smoothie • Does Blending Destroy Nutrients? • Vitamix vs. Blendtec
007: Yes, You Can Fill Up On Plants!
052: Shawn Stevenson – Sleep Smarter | Living Spring Water | Solutions For Snoring
014: David Wolfe – Colours Are The Key To Your Health, Drink The Best Water Ever, Get Energized Without Stimulants
Note: Some of the links above are affiliate links. Making a purchase through these links won't cost you anything but we will receive a small commission. This is an easy, free way of supporting the podcast. Thank you!
How can you support our podcast?
1. Apple users, please subscribe and review our show on Apple Podcasts, we make sure to read them all. Android users, be sure to subscribe to our show on Google Podcasts. Subscribers never miss any of the action 😉
2. Tell a friend about The Ultimate Health Podcast. They will surely thank you later. You can use the envelope button below to email a friend or tell them about TUHP in person.
3. Join TUHP Facebook community (FREE). This is where we all stay in touch and ask questions in between episodes. Join our community.
4. Follow our adventures on our favourite social media platform, Instagram.
5. Download The Ultimate Health Podcast app (FREE). This way you'll have our whole library of episodes right at your fingertips. Download our iOS/Apple app or our Android app.
6. Share using the buttons below.
Thank you!