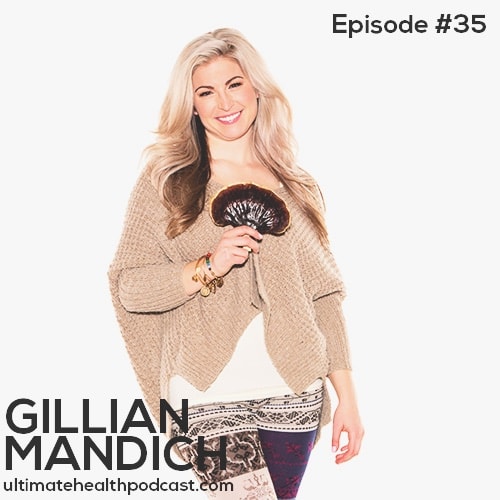 Today we are speaking with holistic health expert, Gillian Mandich. She is currently completing her PhD, specializing in health promotion. Gillian has a passion for sharing her wealth of knowledge with the world through magazines, radio, TV and her popular podcast – The Holistic Health Diary. Her passion and enthusiasm is contagious.
In this episode, we discuss:
Gillian's passion for health and wellness was sparked by her mom
Make sure you are keeping life FUN!
Start your day with gratitude
The importance of quality sleep
The (disgusting) details on tongue scraping
Movement should come before meditation
Successful people have a solid morning routine
"There is yoga for everybody and yoga for every body"
Key concepts for managing childhood obesity
Gillian winning the Oxygen Magazine Model Search
How your diet is like your bank account
Spend time with people who make you better and inspire you
It's time to stop and appreciate nature
Getting into the flow
Saying no to someone is saying yes to yourself
Related Links:
Gillian Mandich's website
Follow Gillian Mandich on Facebook, Instagram, and Twitter
Holistic Health Diary (Gillian's podcast)
The Five-Minute Journal
5 Reasons Why Everyone Needs A Tongue Scraper
Dr. Tung's Natural Oral Care
YogaGlo
Julie Piatt
Jai Release Meditation Program
Headspace app
Adrenaline MMA Training & Fitness Center
Yoga Tune Up – therapy balls
Seane Corn
Find A Spring
Mastin Kipp
Related Shows:
032: The Best Health Apps… Ever! (minicast)
033: Rich Roll – Anti-Hack Your Life | Mood Follows Action | Hard Work > Talent
034: Frank Giglio – ReWild Your Life | Eat Local & Thrive | Deep Nutrition With Fermented Foods
209: Mastin Kipp – Claim Your Power • Step Into Your Purpose • Spiritual Entertainment
010: Samantha Gladish – Natural Oral Care And Quality Nutrition
Note: Some of the links above are affiliate links. Making a purchase through these links won't cost you anything but we will receive a small commission. This is an easy, free way of supporting the podcast. Thank you!
How can you support our podcast?
1. Apple users, please subscribe and review our show on Apple Podcasts, we make sure to read them all. Android users, be sure to subscribe to our show on Google Podcasts. Subscribers never miss any of the action 😉
2. Tell a friend about The Ultimate Health Podcast. They will surely thank you later. You can use the envelope button below to email a friend or tell them about TUHP in person.
3. Join TUHP Facebook community (FREE). This is where we all stay in touch and ask questions in between episodes. Join our community.
4. Follow our adventures on our favourite social media platform, Instagram.
5. Download The Ultimate Health Podcast app (FREE). This way you'll have our whole library of episodes right at your fingertips. Download our iOS/Apple app or our Android app.
6. Share using the buttons below.
Thank you!