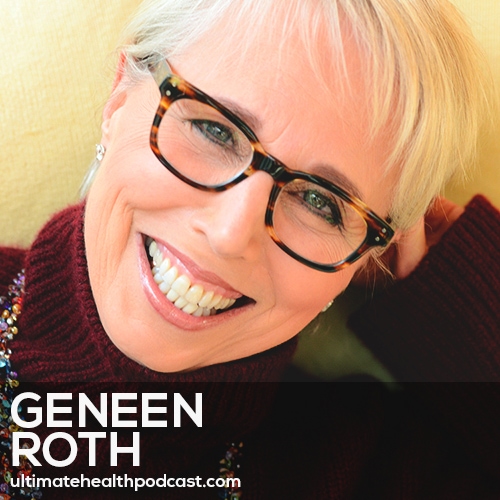 Geneen Roth (IG: @geneenroth) is the author of ten books, including a number of New York Times bestsellers. Over the past thirty years, she has worked with thousands of people in her groundbreaking workshops and retreats and has appeared on numerous national shows, including The Oprah Winfrey Show, 20/20, and the Today show. Today we're focusing on Geneen's latest book, This Messy Magnificent Life.
In this episode, we discuss:
Geneen's hellish relationship with food from age 11 to 28
If I had X then I would feel Y thinking (it's a myth)
Working on ultimate contentment and joy
Everybody has challenges… it's challenging to be alive
Losing 30 years of life savings
Focus on what you do have vs what you don't
There's only this moment
What people regret most at the end of their lives
Insight doesn't lead to change
What's not wrong right now?
Very little can't be replaced
Everything ends
Seeing extraordinary in the ordinary
Meeting Eckhart Tolle for the first time
Showing up moment to moment
Stop complaining
When you change the way you look at things, the things you look at change
Taking a conscious breath a couple of times a day
The most fabulous thing about being aware of death
Death can happen in any moment
Show sponsors:
Four Sigmatic <== 15% off all Four Sigmatic products (free shipping on orders $100 or more)
Thrive Market <== Get your membership for as low as $5 a month & receive $20 in shopping credit with a 1 year membership (US only)
Raw Elements <== 10% off all Raw Elements products – Apply the code TUHP at checkout (free shipping over $100)
Sunwarrior <== 20% off all Sunwarrior products & free shipping over $50 (US only)
Related links:
Geneen Roth – This Messy Magnificent Life (book)
Geneen Roth's website
Follow Geneen Roth on Facebook, Instagram, and Twitter
Geneen Roth (books)
Listen to Dr. Mark Hyman previously on TUHP (episode #214, #84, #74)
Eckhart Tolle
John Gunther – Death Be Not Proud (book)
Download our BRAND NEW TUHP iOS app (FREE)!
Related episodes:
292: Chalene Johnson – 131 Method • Family Comes First • Stop The Food Rules
284: Darya Rose – Foodist • Break Away From Dieting • Shop In Season
215: Robyn Youkilis – Thin From Within • Hot Button Foods • Let Your Intuition Guide You
212: James Colquhoun – Food Matters • Building A Thriving Online Community • Transformation Starts In The Mind
095: Melissa Ambrosini – Without Your Health, You have Nothing • FREE Isn't The Answer • Your Natural State Is Love
Note: Some of the links above are affiliate links. Making a purchase through these links won't cost you anything but we will receive a small commission. This is an easy, free way of supporting the podcast. Thank you!
How can you support our podcast?
1. Apple users, please subscribe and review our show on Apple Podcasts, we make sure to read them all. Android users, be sure to subscribe to our show on Google Podcasts. Subscribers never miss any of the action 😉
2. Tell a friend about The Ultimate Health Podcast. They will surely thank you later. You can use the envelope button below to email a friend or tell them about TUHP in person.
3. Join TUHP Facebook community (FREE). This is where we all stay in touch and ask questions in between episodes. Join our community.
4. Follow our adventures on our favourite social media platform, Instagram.
5. Download The Ultimate Health Podcast app (FREE). This way you'll have our whole library of episodes right at your fingertips. Download our iOS/Apple app or our Android app.
6. Share using the buttons below.
Thank you!