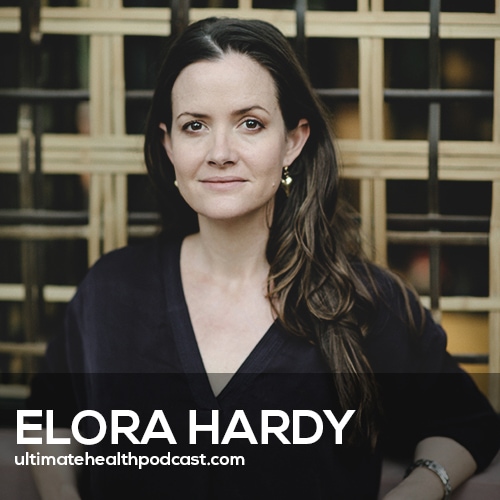 Elora Hardy (IG: @eloradora) is the Founder and Creative Director of IBUKU. Raised on the beautiful island of Bali, Elora was inspired by the highly skilled local craftsmen as well as by the talented jewelry designs of her parents.
She spent 14 years of her young adult life in the United States, where she received a degree in fine arts and went on to New York City to design prints for Donna Karan that would walk the world's runways.
In 2010, Elora left her successful career in the fashion world to carry on the incredible work of the design-build team that created the world-renowned Green School in Bali, founded by her father John Hardy.
She reconnected with the culture and landscape that she loves and today continues to cultivate Balinese artisans alongside innovative designers and architects with the goal of making Bali a global center for sustainable design and bringing those designs to the rest of the world.
(Subscribe in Apple Podcasts)
(Subscribe in Google Podcasts)
In this episode, we discuss:
Elora created her 1st structure when she was 9 years old… the fairy mushroom house
Growing up in Bali with Canadian roots
What boarding school in the US was like as a teenager
Life in NYC designing prints for Donna Karan
How Elora met her now husband at a yoga class in NYC
The vision for Green School in Bali
Leaving her career in NYC to learn from her dad, John Hardy
How to grow bamboo
Processing & treating bamboo to make it last
The beauty & sustainability of building with bamboo
How Green School has evolved since 2008
Learning by experiencing nature
Designing unique homes that connect with nature
How COVID-19 has impacted Bali's tourism
The evolution of Bali's tourism over the years
Shifting the conversation about the way things are made
Working with different types of bamboo
The deep need for inspiration & hope
Show sponsors:
Organifi <== 20% off all Organifi products
Paleovalley <== 15% off all Paleovalley products by using the code ultimatehealth at checkout
Beekeeper's Naturals <== 15% off all Beekeeper's Naturals products (free shipping on orders $60 or more)
Perfect Keto <== 20% off all Perfect Keto products (free shipping in the US)
Related links:
Elora Hardy's website (IBUKU)
Follow Elora Hardy on Instagram
Follow IBUKU Bali on Facebook and Instagram
Apple TV+ – Home – Season 1, Episode 3: Bali (featuring Elora & her work)
John Hardy
Green by John & Cynthia
Donna Karan
The Next Industrial Revolution by William McDonough (documentary)
Green School
Linda Garland
Green Village Bali
Listen to Kimbal Musk previously on TUHP (episode #340)
Elizabeth Gilbert – Eat, Pray, Love (book) & (movie)
Bambu Indah
Bamboo U
Thomas Heatherwick
Victoria & Albert (V & A) Museum – Bamboo Futures
Listen to Marni & Jesse – Bali Offerings previously on TUHP (episode #260)
Area15 Las Vegas
Related episodes:
357: Whitney Leigh Morris – Living Small, Living Beautifully
266: Debbie Travis – Design Your Next Chapter • The Need To Connect • We All Crave Vitality
263: Jonathan Fields – Uncovering The Work That Sparks You
261: Debbie Millman – Manifesting Your Goals • Courage Before Confidence • Everything Worthwhile Takes Time
227: Andy Couturier – The Abundance Of Less • Enjoying The Process • Thinking For Yourself
Elora Hardy photo credit: Suki Zoë
Note: Some of the links above are affiliate links. Making a purchase through these links won't cost you anything but we will receive a small commission. This is an easy, free way of supporting the podcast. Thank you!
How can you support our podcast?
1. Apple users, please subscribe and review our show on Apple Podcasts, we make sure to read them all. Android users, be sure to subscribe to our show on Google Podcasts. Subscribers never miss any of the action 😉
2. Tell a friend about The Ultimate Health Podcast. They will surely thank you later. You can use the envelope button below to email a friend or tell them about TUHP in person.
3. Join TUHP Facebook community (FREE). This is where we all stay in touch and ask questions in between episodes. Join our community.
4. Follow our adventures on our favourite social media platform, Instagram.
5. Download The Ultimate Health Podcast app (FREE). This way you'll have our whole library of episodes right at your fingertips. Download our iOS/Apple app or our Android app.
6. Share using the buttons below.
Thank you!