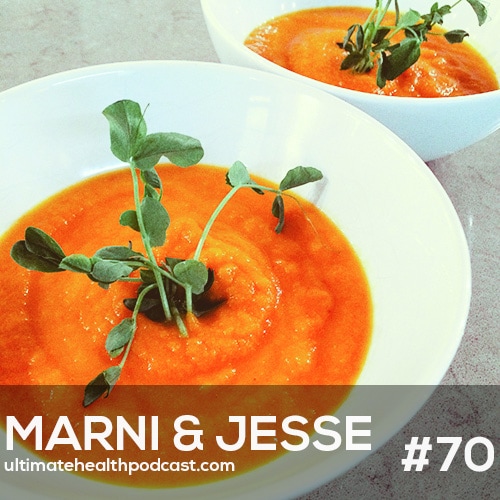 On this weeks show, we dig deep into the benefits of eating seasonally & locally, Fall + Winter edition. We have another episode planned for the Spring where we will get into the same topic but for the warmer months.
This is the time of year many people get sick so we also share a number of foods that will boost your immunity. It's time to stop fearing germs.
In this episode, we discuss:
The benefits of eating seasonally & locally
Organic vs. local… which is better?
GMO salmon is now a thing
Best places to shop for healthy foods
Just because Whole Foods sells it, doesn't mean it's healthy
The best warming, grounding foods for the Fall and Winter months
Roasted nuts at home… the secret is low and long
Sprout from your kitchen and save money
Nutrients to consider as we head into the cooler months
How to keep a high functioning immune system, this time of year
Top immune boosting foods
A healthy gut leads to a healthy immune system
Immune boosting tea recipes
Boost natural killer cells (good guys) by 300% with reishi mushroom
Related links:
Sunwarrior <== 20% off all Sunwarrior products & free shipping over $50 (US only)
Marni Wasserman website
Whole Life Expo
Dirty Dozen & Clean Fifteen
TUHP Episode 38 – Take A Stand Against GMOs (Eat Organic)
Urban Cultivator
Marni Wasserman – Plant-Based Diet For Dummies (book)
Listen to Shawn Stevenson previously on TUHP (episode #027 & 052)
Related episodes:
284: Darya Rose – Foodist • Break Away From Dieting • Shop In Season
281: Vani Hari aka Food Babe – Feeding You Lies • Non-GMO vs. Organic • Life As A New Mom
036: Whitney Lauritsen – Live (More) Eco Friendly, Eat Organic On A Budget, Avoid Vegan Junk Food
066: Dr. Elson Haas – Nutrition, The Foundation Of Health | Stop Stress In Its Tracks | Key Nutrients That Support Immunity
143: Tero Isokauppila – Medicinal Mushrooms Have The Power To Regulate Your Immunity, Boost Your Brain, And Improve Your Gut Health
Note: Some of the links above are affiliate links. Making a purchase through these links won't cost you anything but we will receive a small commission. This is an easy, free way of supporting the podcast. Thank you!
How can you support our podcast?
1. Apple users, please subscribe and review our show on Apple Podcasts, we make sure to read them all. Android users, be sure to subscribe to our show on Google Podcasts. Subscribers never miss any of the action 😉
2. Tell a friend about The Ultimate Health Podcast. They will surely thank you later. You can use the envelope button below to email a friend or tell them about TUHP in person.
3. Join TUHP Facebook community (FREE). This is where we all stay in touch and ask questions in between episodes. Join our community.
4. Follow our adventures on our favourite social media platform, Instagram.
5. Download The Ultimate Health Podcast app (FREE). This way you'll have our whole library of episodes right at your fingertips. Download our iOS/Apple app or our Android app.
6. Share using the buttons below.
Thank you!