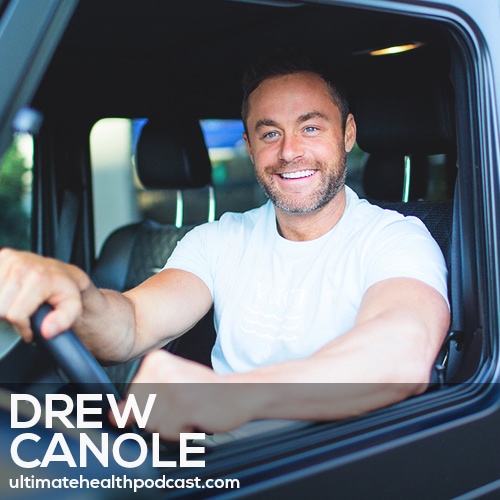 Drew Canole (IG: @drewcanole) is a rock star in the world of fitness, nutrition, and mindset, with a huge heart for others. He's doing his part to transform the world, one person at a time.
Drew is the founder of Fitlifetv and the supplement company, Organifi which has an incredible lineup of products that includes superfood blends, protein powders, turmeric and probiotics.
Drew is the author of You Be You: Detox Your Life, Crush Your Limitations, and Own Your Awesome.
In this episode, we discuss:
Drew's being born into an abusive home
Chasing money
When you change your environment, you can change everything about your life
The origin story of Fitlife.tv
Drew's first glass of green juice
Micronutrients are where it's at
The greatest tasting green juice on the planet
Commitment is everything in life
Creating a vision
Waking up from the dream that we call life
The only time you can create is when you're present
To achieve flow, you must deal with the darkness within
What is lucid dreaming?
Your liver is your third brain
Having psychedelic experiences without "drugs"
How to learn more effectively
Drew's important mentor, Frank
It's not you doing it
You are enough
Using sticky notes to impress messages on your subconscious mind
Staying away from the news
Taking adversity and transforming it into something amazing
Gratitude will shift things in a second
Every environment has a frequency
Show sponsors:
Organifi <== 20% off all Organifi products
Four Sigmatic <== 15% off all Four Sigmatic products (free shipping on orders $100 or more)
Raw Elements <== 10% off all Raw Elements products – Apply the code TUHP at checkout (free shipping over $100)
Related links:
Drew Canole – You Be You (book)
Organifi <== 20% off all Organifi products
Fitlivetv
Follow Drew on Instagram
Eckhart Tolle (books)
don Miguel Ruiz – The Fifth Agreement (book)
Inception (movie)
David Hawkins – Power vs. Force (book)
Tony Robbins (books)
Related episodes:
269: don Miguel Ruiz Jr – The Seven Secrets To Healthy, Happy Relationships
161: JJ Virgin – Adopting A Miracle Mindset
142: Dr. Bruce Lipton – The Biology Of Belief • How To Reprogram Your Subconscious Mind • The Importance Of Loving Yourself
114: Sean Croxton – The Pursuit Of An Authentic Life
101: don Jose Ruiz – The Fifth Agreement: Be Skeptical, But Learn To Listen
Note: Some of the links above are affiliate links. Making a purchase through these links won't cost you anything but we will receive a small commission. This is an easy, free way of supporting the podcast. Thank you!
How can you support our podcast?
1. Apple users, please subscribe and review our show on Apple Podcasts, we make sure to read them all. Android users, be sure to subscribe to our show on Google Podcasts. Subscribers never miss any of the action 😉
2. Tell a friend about The Ultimate Health Podcast. They will surely thank you later. You can use the envelope button below to email a friend or tell them about TUHP in person.
3. Join TUHP Facebook community (FREE). This is where we all stay in touch and ask questions in between episodes. Join our community.
4. Follow our adventures on our favourite social media platform, Instagram.
5. Download The Ultimate Health Podcast app (FREE). This way you'll have our whole library of episodes right at your fingertips. Download our iOS/Apple app or our Android app.
6. Share using the buttons below.
Thank you!