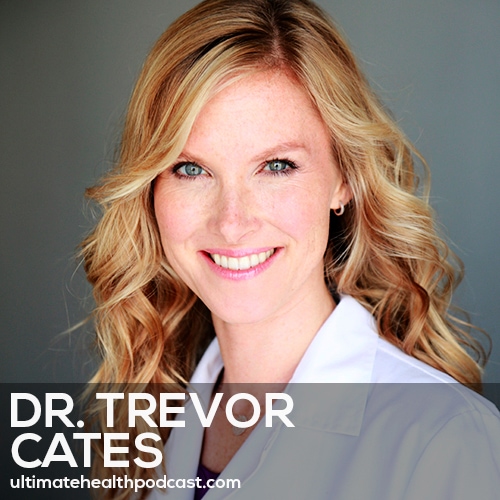 Dr. Trevor Cates is a nationally recognized naturopathic doctor. She is also known as The Spa Dr. and was the first woman licensed as a naturopathic doctor in the state of California. Trevor has worked with world-renown spas and sees patients in her private practice in Park City, Utah with a focus on graceful aging and glowing skin. She has been featured on The Doctors, MindBodyGreen and is the host of The Spa Dr. Podcast.
In this episode, we discuss:
How Trevor hasn't always had glowing skin
Your skin can tell you a lot about your overall health
Skin is our magic mirror
The relationship between our gut microbiome and our skin microbiome
How to tell if your skin microbiome is out of balance
Our skin does best when the environment is mildly acidic
Determining your skin type
Trevor's favourite skin nourishing animal protein – wild salmon
Inflammation is one of the big root causes of skin issues
The bone broth-skin connection
Is there a collagen alternative for vegans and vegetarians?
Antioxidant rich foods help protect your skin
Blood sugar spikes can lead to breakouts
How common is acne these days?
Diet plays a big role when it comes to acne
80% of skin health is internal and 20% is external
What you put on your skin gets absorbed into your body
There are a lot of hidden ingredients in the word "fragrance"
Aloe is great for soothing your skin
A simple papaya mask you can make at home
Men can take their skin care to the next level, too
Find a cleanser with the correct pH
Small white or red bumps on the back of the upper arms… what are these?
Areas of the body that get the most sun exposure
Should we be using sunblock?
Plain yogurt is great for sunburnt skin
The stress-skin connection
The power of positive affirmations and mindset
Show sponsors:
Raw Elements <== 10% off all Raw Elements products – Apply the code TUHP at checkout (free shipping over $100)
Sunwarrior <== 20% off all Sunwarrior products & free shipping over $50 (US only)
Related links:
Dr. Trevor Cates – Clean Skin from Within (book)
Dr. Trevor Cates' website
Follow Dr. Trevor Cates on Facebook, Instagram, and Twitter
Listen to The Spa Dr podcast on iTunes
The Spa Dr.'s Skin Quiz
The Spa Dr. skin care products
Listen to Dr. Kellyann Petrucci previously on TUHP (episode #72)
Sally Hogshead – Fascinate (book)
Related episodes:
304: Trina Felber – Primal Skincare, Remineralize Your Teeth, Foods That Cause Acne
279: Sally Hogshead – How To Fascinate • Unlearn Boring • Finding Balance In The Workplace
188: Nadine Artemis – Redefining Beauty • Your Natural Deodorant Solution • Our Skin Is Designed For Sunshine
072: Dr. Kellyann Petrucci – Everything You Ever Wanted To Know About Bone Broth | Foods For Glowing Skin
012: Joy McCarthy – Get Your Skin To Glow Naturally
Note: Some of the links above are affiliate links. Making a purchase through these links won't cost you anything but we will receive a small commission. This is an easy, free way of supporting the podcast. Thank you!
How can you support our podcast?
1. Apple users, please subscribe and review our show on Apple Podcasts, we make sure to read them all. Android users, be sure to subscribe to our show on Google Podcasts. Subscribers never miss any of the action 😉
2. Tell a friend about The Ultimate Health Podcast. They will surely thank you later. You can use the envelope button below to email a friend or tell them about TUHP in person.
3. Join TUHP Facebook community (FREE). This is where we all stay in touch and ask questions in between episodes. Join our community.
4. Follow our adventures on our favourite social media platform, Instagram.
5. Download The Ultimate Health Podcast app (FREE). This way you'll have our whole library of episodes right at your fingertips. Download our iOS/Apple app or our Android app.
6. Share using the buttons below.
Thank you!