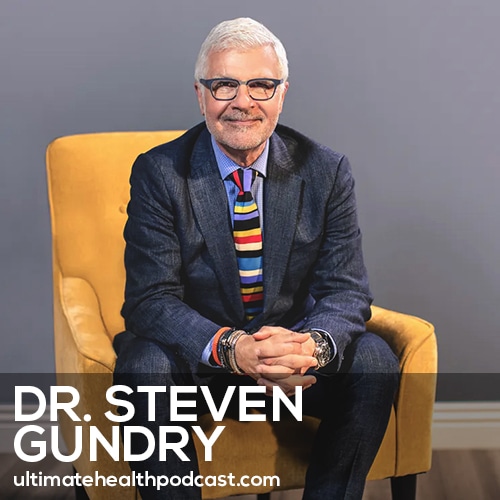 Dr. Steven Gundry (IG: @drstevengundry) is one of the world's top cardiothoracic surgeons and a pioneer in nutrition. He is the author of many New York Times bestselling books.
He is the founder of Gundry MD, a line of wellness products and supplements, host of the top-rated health show, The Dr. Gundry Podcast, and medical director at The International Heart and Lung Institute Center for Restorative Medicine.
Today we're discussing Dr. Gundy's new book, Unlocking the Keto Code, which offers a revolutionary take on the keto diet that debunks common myths and shows how to reap the rewards of keto with less restriction.
Watch the full video version of this conversation below.
In this episode, we discuss:
What is mitochondrial uncoupling?
The history of ketones & epilepsy
Ketones are NOT super fuel for your brain
Uncoupling to survive theory
We've gotten melatonin all wrong!
Time-restricted eating improves metabolic flexibility
MCT oil helps produce ketones (even with carbs!)
The best way to take MCT oil
What are polyphenols? + their uncoupling effect
The role of postbiotics
Foods that help uncouple your mitochondria
The discovery of postbiotic gasses
Dr. Gundry's thoughts on taking exogenous ketones
How hot & cold therapy uncouple your mitochondria
The mitochondrial uncoupling impact of red & near-infrared light therapy
Caffeine uncouples your mitochondria
Exercise for your mitochondria
Spices that uncouple your mitochondria
Show sponsors:
Oura Ring <== Buy the Oura Ring Generation 3 and get 6 free months of Oura membership
Just Thrive <== 15% off all Just Thrive products by using the code ultimatehealth at checkout
Paleovalley <== 15% off all Paleovalley products by using the code ultimatehealth at checkout
Related links:
Dr. Steven Gundry – Unlocking the Keto Code (​​book)
Dr. Steven Gundry's website
GundryMD – Save 30% off all products when you use the code Gundry30 at checkout
Follow Dr. Steven Gundry on Facebook, Instagram, and YouTube
Dr. Steven Gundry (books)
Listen to Dr. Steven Gundry previously on TUHP (episodes #202, #287, and #404)
Gwyneth Paltrow (books)
George F. Cahill Jr.
Dr. Richard Veech
Dr. Stephen Phinney (books)
Dr. Martin Brand – Uncoupling to survive? The role of mitochondrial inefficiency in ageing (research)
Dr. Rafael de Cabo
Dr. Valter Longo (books)
Listen to Dr. Valter Longo previously on TUHP (episode #442)
Fast Bar
World Congress on Polyphenols
Dave Asprey (books)
Listen to Dave Asprey previously on TUHP (episodes #061, #159, #305, and #389)
Related episodes:
Dr. Amy Shah Shares a Proven Plan to Boost Your Energy Today! (#431)
369: Dr. Jason Fung – Stop Snacking & Start Fasting
353: Dr. Satchin Panda – Time-Restricted Eating (TRE) & Managing Your Light Exposure
316: Dr. William Li – Is Your Diet Feeding Or Defeating Disease?
120: Dr. Terry Wahls – How To Fuel Your Mitochondria • Organ Meats For Beginners • MCT Oil And Exogenous Ketones
How can you support our podcast?
1. Apple users, please subscribe and review our show on Apple Podcasts, we make sure to read them all. Android users, be sure to subscribe to our show on Google Podcasts. Subscribers never miss any of the action 😉
2. If you'd prefer to watch vs listen to the interviews, head over to our YouTube channel and enjoy the full video conversations. Be sure and subscribe while you're there.
3. Tell a friend about The Ultimate Health Podcast. They will surely thank you later. You can use the envelope button below to email a friend or tell them about TUHP in person.
4. Join TUHP Facebook community (FREE). This is where we all stay in touch and ask questions in between episodes. Join our community.
5. Follow our adventures on our favourite social media platform, Instagram.
6. Download The Ultimate Health Podcast app (FREE). This way you'll have our whole library of episodes right at your fingertips. Download our iOS/Apple app or our Android app.
7. Share using the buttons below.
Thank you!