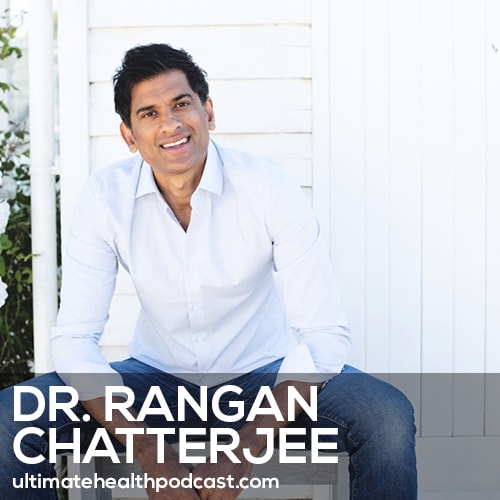 Dr. Rangan Chatterjee (IG: @drchatterjee) is regarded as one of the most influential medical doctors in the UK and wants to change how medicine will be practiced for years to come. His mission is to help 100 million people around the globe live better lives.
Rangan hosts the most listened to health podcast in the UK and Europe, 'Feel Better, Live More' – which regularly tops the Apple Podcasts charts.
He is the number 1 selling health author in the UK – each of his first 4 books have been Sunday Times Bestsellers in the UK and international bestsellers across the globe.
Today we're discussing Rangan's 5th book, Happy Mind, Happy Life: The New Science of Mental Well-Being.
If you're looking for low cost, simple strategies to feel happier – stick around and have a listen or watch!
Watch the full video version of this conversation below.
In this episode, we discuss:
Happiness is a skill
The core happiness stool
How we deal with stress
Are happier people healthier?
What are junk happiness habits?
The freedom exercise
Write your happy ending
Are you living a life that nourishes you?
Free ways to feel happier
Rangan's 3 Ms morning routine
Take a daily holiday
Why Rangan practices time-restricted eating (TRE)
How to include your kids into your morning routine
Rangan's journey into health & wellness
Is Rangan leaving medical practice?
Developing self-awareness
Having maskless conversations
Show sponsors:
Paleovalley <== 15% off all Paleovalley products by using the code ultimatehealth at checkout
Organifi <== 20% off all Organifi products by using the code ultimatehealth at checkout
Rancho La Puerta – Use the code RLP-UHP and save $250 off your first 7-night visit at Rancho
Related links:
Dr. Rangan Chatterjee – Happy Mind, Happy Life (book)
Dr. Rangan Chatterjee's website
Follow Dr. Rangan Chatterjee on Facebook, Instagram, and Twitter
Dr. Rangan Chatterjee (books)
Feel Better, Live More with Dr. Rangan Chatterjee (podcast)
Jonny Wilkinson
National Health Service
Listen to Dr. Jason Fung previously on TUHP (episodes #369, #380, and #467)
Listen to Dr. Satchin Panda previously on TUHP (episode #353)
Doctor in the House – BBC One
Related episodes:
Josh Peck on Finding Happiness & How You Can Too! (#462)
How to Free Your Mind and Live a Full & Meaningful Life | Dr. Steven Hayes (#444)
Moby on How to Find True Happiness in the Unexpected (#436)
Arianna Huffington on Ending Burnout and Increasing Well-Being With Microsteps (#399)
377: A.J. Jacobs – Stop Obsessing About Your Health, Gratitude Leads To Happiness, Radical Honesty
Dr. Rangan Chatterjee photo credit: Susan Bell
How can you support our podcast?
1. Apple users, please subscribe and review our show on Apple Podcasts, we make sure to read them all. Android users, be sure to subscribe to our show on Google Podcasts. Subscribers never miss any of the action 😉
2. If you'd prefer to watch vs listen to the interviews, head over to our YouTube channel and enjoy the full video conversations. Be sure and subscribe while you're there.
3. Tell a friend about The Ultimate Health Podcast. They will surely thank you later. You can use the envelope button below to email a friend or tell them about TUHP in person.
4. Join TUHP Facebook community (FREE). This is where we all stay in touch and ask questions in between episodes. Join our community.
5. Follow our adventures on our favourite social media platform, Instagram.
6. Download The Ultimate Health Podcast app (FREE). This way you'll have our whole library of episodes right at your fingertips. Download our iOS/Apple app or our Android app.
7. Share using the buttons below.
Thank you!