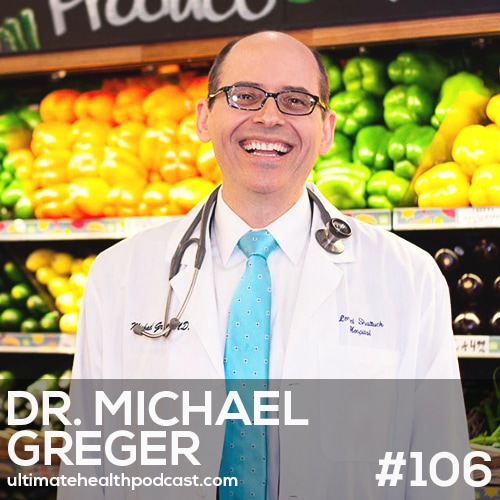 Dr. Michael Greger is a physician, New York Times bestselling author, and internationally recognized professional speaker on a number of important public health issues. He scours the world's nutrition research to bring you free daily videos and articles over at NutritionFacts.org.
In this episode, we discuss:
How Michael's grandmother inspired him to pursue a career in medicine
Reversing disease with a plant-based diet and lifestyle modifications
The critical role of your gut microbiome
Our gut microbiome feeds on fibre and resistant starch
Corrupt health and wellness research
The truth can't remain buried (for too long)
The Daily Dozen
Is buying organic food really worth it?
Are you wasting your time avoiding gluten?
The importance (or lack thereof) of supplementation
You have a great deal of control over your health
Related links:
Sunwarrior <== 20% off all Sunwarrior products & free shipping over $50 (US only)
Dr. Michael Greger – How Not to Die (book)
Dr. Michael Greger's website (NutritionFacts.org)
Follow Dr. Michael Greger's (NutritionFacts.org) on Facebook, Instagram, and Twitter
Dr. Greger's Daily Dozen app iOS/Android
Dr. Michael Greger (books)
Nathan Pritikin (books)
Dr. T. Colin Campbell – The China Study (book)
Forks Over Knives (documentary)
Michael Pollan – Cooked (documentary)
Related episodes:
289: Dr. David Perlmutter – Brain Maker • Reconnecting With Nature • Exercise Impacts The Microbiome
124: Dr. Jill Carnahan – Toxic Mold • The Gut-Mind Connection • SIBO 101
078: Dr. Robynne Chutkan – Microbiome 101 | Stop Sanitizing Yourself Sick | Having A Dog Will Boost Your Health
130: Sandor Katz – Wild Fermentation • Probiotic Supplements vs. Fermented Foods • Ferment At Home
080: Josh Gitalis – Getting To The Root Of Depression & Anxiety | Protect Your Adrenals With Adaptogenic Herbs | Synthetic vs. Whole Food Supplements
Note: Some of the links above are affiliate links. Making a purchase through these links won't cost you anything but we will receive a small commission. This is an easy, free way of supporting the podcast. Thank you!
How can you support our podcast?
1. Apple users, please subscribe and review our show on Apple Podcasts, we make sure to read them all. Android users, be sure to subscribe to our show on Google Podcasts. Subscribers never miss any of the action 😉
2. Tell a friend about The Ultimate Health Podcast. They will surely thank you later. You can use the envelope button below to email a friend or tell them about TUHP in person.
3. Join TUHP Facebook community (FREE). This is where we all stay in touch and ask questions in between episodes. Join our community.
4. Follow our adventures on our favourite social media platform, Instagram.
5. Download The Ultimate Health Podcast app (FREE). This way you'll have our whole library of episodes right at your fingertips. Download our iOS/Apple app or our Android app.
6. Share using the buttons below.
Thank you!