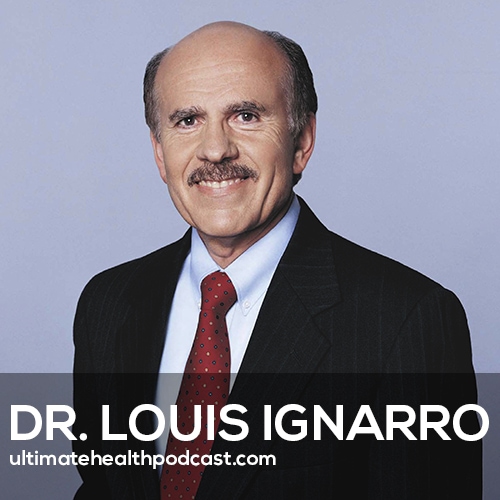 Dr. Louis Ignarro (IG: @dr.louisignarro) has more than 40 years of experience as a research scientist and was a professor at UCLA. In 1998, he was awarded a Nobel Prize for his groundbreaking discovery of nitric oxide or (NO) and its many critically important biological actions.
Dr. Lou's groundbreaking research on NO paved the way for the drug Viagra and he's been nicknamed the Father of Viagra.
Earlier this year Dr. Lou released a new book, Dr. NO: The Discovery That Led to a Nobel Prize and Viagra.
NO is a molecule you may not have heard of before but it's powerful and can have a profound influence on your health – stick around to learn more.
Watch the full video version of this conversation below.
In this episode, we discuss:
Why nitric oxide (NO) is important
Specific foods that boost NO production
How quickly does NO boost in your system after eating specific foods?
Foods that cause a decrease in NO
Arginine is required for nitric oxide production
Specific functions NO has on the gastrointestinal (GI) system & bladder
The physiology of nitric oxide for penile erection
The rise of Viagra
Dr. Lou recalls how he found out he won the Nobel Prize
How winning the Nobel Prize changed his life personally & professionally
Taking arginine & citrulline together boosts NO
NO improves your athletic performance
Endothelial cells produce NO when you exercise
Breathing through your nose boosts NO in your lungs
How breathing through your nose can protect against COVID-19
Hydration, rest, and electrolytes
Eating a healthy, balanced diet
Dr. Lou's passion for teaching & educating
The future of NO research
Show sponsors:
BiOptimizers <== 10% off BiOptimizers' Magnesium Breakthrough by using the code ultimatehealth10 at checkout
Rancho La Puerta – Use the code RLP-UHP and save $250 off your first 7-night visit at Rancho
Paleovalley <== 15% off all Paleovalley products by using the code ultimatehealth at checkout
NutriSense <== $30 off your NutriSense CGM Program by using the code ultimatehealth at checkout
Related links:
Dr. Louis Ignarro – Dr. NO (book)
Dr. Louis Ignarro's website
Follow Dr. Louis Ignarro on Facebook, Instagram, and Twitter
Dr. Louis Ignarro (books)
J Rajfer, W J Aronson, P A Bush, F J Dorey, L J Ignarro – Nitric oxide as a mediator of relaxation of the corpus cavernosum in response to nonadrenergic, noncholinergic neurotransmission (study)
Related episodes:
The Hidden Root Cause of Most Chronic Disease | Dr. Benjamin Bikman (#448)
Dan Buettner Shares the Blue Zones Secrets for a Longer, Better Life (#446)
Start Breathing Through Your Nose to Completely Transform Your Health | Patrick McKeown (#438)
James Nestor – Breathe This Way to Transform Your Body and Mind (#413)
Dr. Steven Gundry on Boosting Your Mental and Physical Energy (#404)
How can you support our podcast?
1. Apple users, please subscribe and review our show on Apple Podcasts, we make sure to read them all. Android users, be sure to subscribe to our show on Google Podcasts. Subscribers never miss any of the action 😉
2. If you'd prefer to watch vs listen to the interviews, head over to our YouTube channel and enjoy the full video conversations. Be sure and subscribe while you're there.
3. Tell a friend about The Ultimate Health Podcast. They will surely thank you later. You can use the envelope button below to email a friend or tell them about TUHP in person.
4. Join TUHP Facebook community (FREE). This is where we all stay in touch and ask questions in between episodes. Join our community.
5. Follow our adventures on our favourite social media platform, Instagram.
6. Download The Ultimate Health Podcast app (FREE). This way you'll have our whole library of episodes right at your fingertips. Download our iOS/Apple app or our Android app.
7. Share using the buttons below.
Thank you!