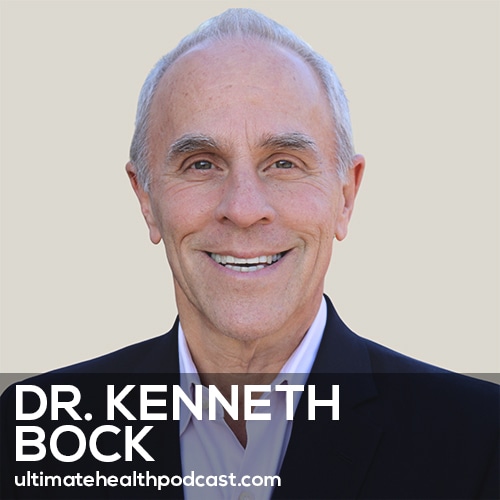 As a leader in integrative medicine, Dr. Kenneth Bock (@KennethBockMD) has accumulated over 35 years of experience diagnosing the root cause of chronic illnesses and restoring balance to the immune systems of his patients.
He founded Bock Integrative Medicine in response to the increasing need for board-certified medical providers who take a unique "whole body" approach to diagnose and treat chronic illness.
Dr. Bock focuses on the treatment of autism and co-occurring conditions, PANS/PANDAS, ITABI, tick-borne illnesses, and adult conditions such as chronic fatigue syndrome, fibromyalgia, and heart disease.
Today we're discussing his latest book, Brain Inflamed: Uncovering the Hidden Causes of Anxiety, Depression, and Other Mood Disorders in Adolescents and Teens.
Watch the full video version of this conversation below.
In this episode, we discuss:
The four A's: autism, ADHD, allergies & asthma
What's causing the increase in food allergies & food sensitivities in kids
How to restore your babies microbiome after a c-section
Understanding various food allergy/food sensitivity symptoms
Craving a food… you could be allergic to it
Dr. Bock's approach to talking to kids/teenagers
Is your immune kettle boiling over?
What is ITABI, PANS & PANDAS?
Tests & treatments when strep causes PANDAS
Knowing where the infection ends and the autoimmune disease begins
What causes a misdirected immune response?
The role of antibiotics and probiotics in treatment protocols
Using intravenous immunoglobulin (IVIg) therapy
Nutritional modulation of genetic expression
Supplementing methylfolate can help mood disorders
Lyme disease and co-infections
Clues and questions to ask your doctor about Lyme
Symptoms of Lyme disease, Bartonella and Babesia
Treat the patient, not the labs
Lyme and Hashimoto's thyroiditis
Find a Lyme literate doctor
Treatment recommendations for acute Lyme disease vs. chronic Lyme disease
Dr. Bock's advice for parents with suffering children
Love and laughter are the two best nutrients for the immune system
Show sponsors:
Beekeeper's Naturals <== 15% off all Beekeeper's Naturals products
Four Sigmatic <== Save up to 40% off Four Sigmatic Mushroom Coffee bundles
Alitura <== 20% off your first order of Alitura's life-changing skin care products by using the code UHP20 at checkout
Related links:
Dr. Kenneth Bock – Brain Inflamed (book)
Dr. Kenneth Bock's website (Bock Integrative)
Follow Dr. Kenneth Bock (Bock Integrative) on Facebook, Instagram, and Twitter
Dr. Kenneth Bock – The Road To Immunity (book)
Food additives and hyperactive behaviour in 3-year-old and 8/9-year-old children in the community: a randomised, double-blinded, placebo-controlled trial (study)
ILADS (International Lyme and Associated Diseases Society)
Bock Nutritionals
Related episodes:
368: Jordan Younger Albrecht – Healing From Lyme Disease, Eating Vegan (Again), Psychedelic Transformations
359: Dr. Daniel Amen – The End Of Mental Illness
267: Dr. Datis Kharrazian – Why Isn't My Brain Working?
092: Dr. Kelly Brogan – Depression, Myths & Misconceptions • Medications That Commonly Cause Psychiatric Side Effects • Gut Health Impacts Brain Health
055: Tim Van Orden – Authentic Happiness | Battling Lyme Disease | Secrets To A Next Level Salad
How can you support our podcast?
1. Apple users, please subscribe and review our show on Apple Podcasts, we make sure to read them all. Android users, be sure to subscribe to our show on Google Podcasts. Subscribers never miss any of the action 😉
2. If you'd prefer to watch vs listen to the interviews, head over to our YouTube channel and enjoy the full video conversations. Be sure and subscribe while you're there.
3. Tell a friend about The Ultimate Health Podcast. They will surely thank you later. You can use the envelope button below to email a friend or tell them about TUHP in person.
4. Join TUHP Facebook community (FREE). This is where we all stay in touch and ask questions in between episodes. Join our community.
5. Follow our adventures on our favourite social media platform, Instagram.
6. Download The Ultimate Health Podcast app (FREE). This way you'll have our whole library of episodes right at your fingertips. Download our iOS/Apple app or our Android app.
7. Share using the buttons below.
Thank you!