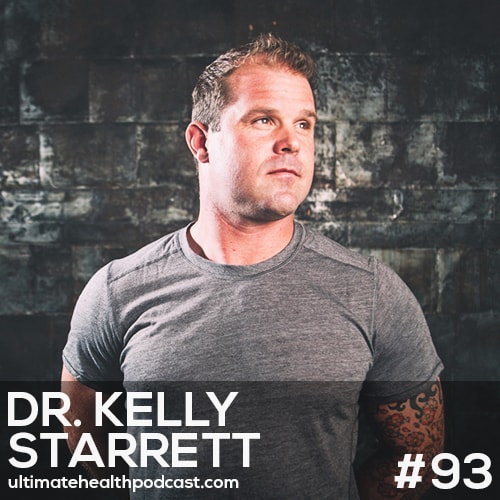 On this week's show, we are speaking with New York Times bestselling author, Dr. Kelly Starrett. He's also a coach, physical therapist, and speaker.
Kelly founded San Francisco CrossFit in 2005 with his wife and fellow athlete Juliet Starrett. This athletic training center was one of the first 50 CrossFit Affiliates.
Today we are talking to Kelly about his new book, Deskbound: Standing Up to a Sitting World.
In this episode, we discuss:
When you sit the muscles in your lower body shut off
One hour at the gym doesn't make up for sitting all day at work
We need to create a movement rich environment
There are times we need to sit, so… how do we optimize this?
Is there any legitimacy to the 10,000 steps a day trend?
1st graders running gait falls apart due to too much sitting
Standing while you work increases your focus
Static standing while working isn't the answer
Turn your current desk into a stand-up desk with things you already have around your home
You should be standing and walking with your feet straight
The ultimate standing desk
Making the environment fit your physiology
Getting stand up desks into the classrooms
Arch supports suck
Have flip-flops turned your feet into island feet?
A simple test to see how healthy your feet are
It only takes 10 minutes a day to maintain the health of your tissues
Normal tissues aren't painful to compression
The best position to sleep in
Smash your tissues to activate your parasympathetic nervous system before bed
Smashing vs. stretching your tissues
Kelly's morning routine
Better absorb the water you drink by adding in a pinch of sea salt
Related links:
Dr. Kelly Starrett – Deskbound (book)
Dr. Kelly Starrett's website (Mobility|WOD)
Follow Mobility|WOD on Facebook, Instagram, and Twitter
Dr. Kelly Starrett – Ready to Run (book)
Standup Kids – Kelly's nonprofit
Listen to Vani Hari (Food Babe) previously on TUHP ( episode #020)
Jared Diamond – Guns, Germs, and Steel (book)
Dr. Nicholas Romanov (books)
Fully (formerly called Ergo Depot)
Listen to Katy Bowman previously on TUHP (episode #064)
Christopher McDougall – Born to Run (book)
Sunwarrior <== 20% off all Sunwarrior products & free shipping over $50 (US only)
Join TUHP Facebook group
Add us on Snapchat
Habits app for iOS (*no longer available)
Related episodes:
077: Jill Miller – Sitting Is The New Smoking | Fascia, What Exactly Is It? | Yoga Tune Up Therapy Balls
064: Katy Bowman – Katy Says… Minimize Your Footwear, Embrace Calluses, Ditch The Furniture
043: Ben Greenfield – Raising Children 2.0 | Biohack A Healthy Home | Cholesterol… Redefined
116: Dr. Michael Breus – The Mystery Of Sleep • What Is Your Chronotype? • The Best Pillow And Mattress
052: Shawn Stevenson – Sleep Smarter | Living Spring Water | Solutions For Snoring
Note: Some of the links above are affiliate links. Making a purchase through these links won't cost you anything but we will receive a small commission. This is an easy, free way of supporting the podcast. Thank you!
How can you support our podcast?
1. Apple users, please subscribe and review our show on Apple Podcasts, we make sure to read them all. Android users, be sure to subscribe to our show on Google Podcasts. Subscribers never miss any of the action 😉
2. Tell a friend about The Ultimate Health Podcast. They will surely thank you later. You can use the envelope button below to email a friend or tell them about TUHP in person.
3. Join TUHP Facebook community (FREE). This is where we all stay in touch and ask questions in between episodes. Join our community.
4. Follow our adventures on our favourite social media platform, Instagram.
5. Download The Ultimate Health Podcast app (FREE). This way you'll have our whole library of episodes right at your fingertips. Download our iOS/Apple app or our Android app.
6. Share using the buttons below.
Thank you!