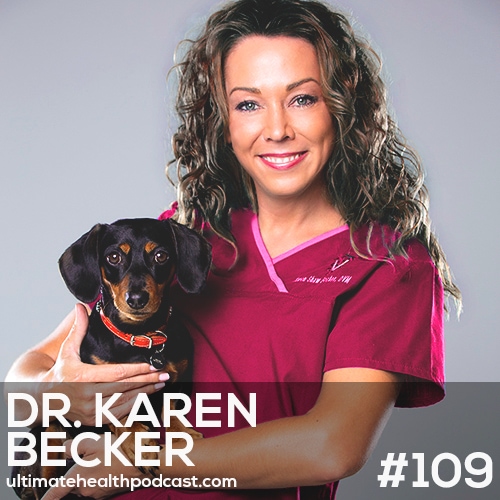 Dr. Karen Becker is a proactive and integrative wellness veterinarian. Her approach seeks to save you and your pet from unnecessary stress and suffering by identifying and removing health obstacles before disease occurs. Karen works with Dr. Mercola, providing cutting edge holistic pet information over on his website, Healthy Pets.
In this episode, we discuss:
The best diet for dogs and cats
How to easily reduce your dogs risk of cancer by 90%
Aim for optimal nutrition for your pets, not the minimum
It's good to rotate animal proteins
How to make your own raw pet food at home
Foods to never feed your dog or cat
Every bite of dry kibble contains carcinogens
Pathogens in raw food vs. dehydrated raw food
How to slow down pets that gulp their food
Can cats and dogs thrive on a vegan or vegetarian diet?
The health issues related to early spaying and neutering
Consider the ovary sparing technique or a vasectomy instead of traditional spaying and neutering
Related links:
Sunwarrior <== 20% off all Sunwarrior products & free shipping over $50 (US only)
Dr. Karen Becker's website
Follow Dr. Karen Becker on Facebook, Instagram, and Twitter
Healthy Pets with Dr. Karen Becker on Mercola.com
Dr. Karen Becker – Dr. Becker's Real Food for Healthy Dogs and Cats (book)
Natural Pet Productions – no longer available
Mercola.com
Parsemus Foundation
Related episodes:
110: Dr. Karen Becker – Ultimate Pet Health: Vaccines, Supplements, & Oral Care (Part 2 of 2)
082: Natasha Knutson – Next Level Pet Health | Superfoods For Super Dogs | Pets Aging Gracefully
187: Focus Friday – Ultimate Dog Health
078: Dr. Robynne Chutkan – Microbiome 101 | Stop Sanitizing Yourself Sick | Having A Dog Will Boost Your Health
287: Dr. Steven Gundry – The Longevity Paradox • Exercise Impacts Your Microbiome • Top Sources Of Polyphenols
Note: Some of the links above are affiliate links. Making a purchase through these links won't cost you anything but we will receive a small commission. This is an easy, free way of supporting the podcast. Thank you!
How can you support our podcast?
1. Apple users, please subscribe and review our show on Apple Podcasts, we make sure to read them all. Android users, be sure to subscribe to our show on Google Podcasts. Subscribers never miss any of the action 😉
2. Tell a friend about The Ultimate Health Podcast. They will surely thank you later. You can use the envelope button below to email a friend or tell them about TUHP in person.
3. Join TUHP Facebook community (FREE). This is where we all stay in touch and ask questions in between episodes. Join our community.
4. Follow our adventures on our favourite social media platform, Instagram.
5. Download The Ultimate Health Podcast app (FREE). This way you'll have our whole library of episodes right at your fingertips. Download our iOS/Apple app or our Android app.
6. Share using the buttons below.
Thank you!