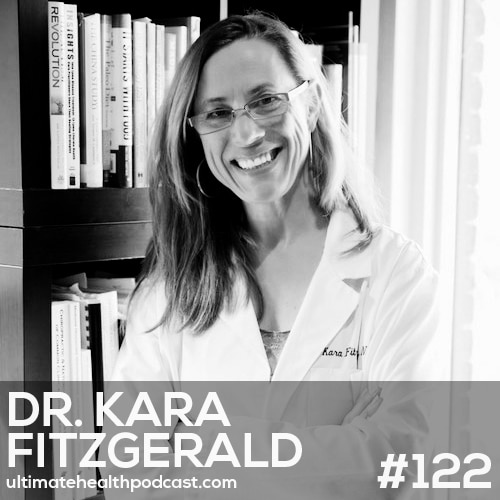 Dr. Kara Fitzgerald is a naturopathic doctor and is an Institute for Functional Medicine Certified Practitioner. She is also on faculty at the Institute for Functional Medicine. Kara completed a post-doctorate position in nutritional biochemistry and laboratory science.
Kara is the lead author of both Case Studies in Integrative and Functional Medicine and Methylation Diet and Lifestyle. She has been published in numerous peer-reviewed journals.
In this episode, we discuss:
Kara's prior health challenge and recovery
Kara Fitzgerald… the early years
Functional medicine and when Kara was first introduced to it
Methylation 101
The negative consequences of stress on your health
Your gut, skin, and oral microbiomes
Your oral microbiome is arguably as important as your gut microbiome
Caring for your skin microbiome
Applying probiotics topically?!?
Allergies, food sensitivities, and food intolerances
Seasonal allergies
All allergies are on the rise, in all populations
Not all farmed fish are bad
Related links:
Sunwarrior <== 20% off all Sunwarrior products & free shipping over $50 (US only)
Raw Elements <== 10% off all Raw Elements products – Apply the code TUHP at checkout (free shipping over $100)
Dr. Kara Fitzgerald's website
Follow Dr. Kara Fitzgerald on Facebook, Instagram, and Twitter
Methylation Diet and Lifestyle (book)
Dr. Kara Fitzgerald – Case Studies in Integrative and Functional Medicine (book)
Dr. Jeffrey Bland (books)
Dr. Mark Hyman – previously on TUHP (episode #74 & #84)
Related episodes:
304: Trina Felber – Primal Skincare, Remineralize Your Teeth, Foods That Cause Acne
247: Chris Kresser – Unconventional Medicine • Cultivating More Joy And Pleasure • The Future of Healthcare
127: Dr. Leo Galland – The Allergy Solution • The Stress-Allergy Connection • Peanut Allergies In Kids
078: Dr. Robynne Chutkan – Microbiome 101 | Stop Sanitizing Yourself Sick | Having A Dog Will Boost Your Health
071: Alan Smith & Julie Daniluk – Fresh Coffee Is A Must | Gratitude Before Bed | Adrenal Burnout Can Lead To Allergies
Note: Some of the links above are affiliate links. Making a purchase through these links won't cost you anything but we will receive a small commission. This is an easy, free way of supporting the podcast. Thank you!
How can you support our podcast?
1. Apple users, please subscribe and review our show on Apple Podcasts, we make sure to read them all. Android users, be sure to subscribe to our show on Google Podcasts. Subscribers never miss any of the action 😉
2. Tell a friend about The Ultimate Health Podcast. They will surely thank you later. You can use the envelope button below to email a friend or tell them about TUHP in person.
3. Join TUHP Facebook community (FREE). This is where we all stay in touch and ask questions in between episodes. Join our community.
4. Follow our adventures on our favourite social media platform, Instagram.
5. Download The Ultimate Health Podcast app (FREE). This way you'll have our whole library of episodes right at your fingertips. Download our iOS/Apple app or our Android app.
6. Share using the buttons below.
Thank you!