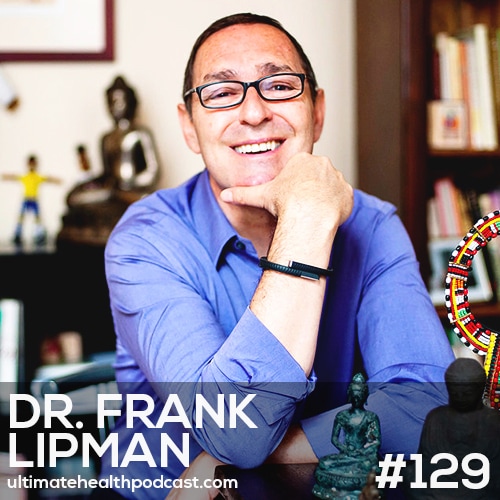 Dr. Frank Lipman is a New York Times bestselling author and a pioneer and internationally recognized expert in the fields of Integrative and Functional Medicine. He's the founder and director of Eleven-Eleven Wellness Center in New York City. Dr. Lipman practices "Good Medicine," a unique approach combining western and alternative medicine. He's helped thousands of people reclaim their vitality and recover their zest for life.
In this episode, we discuss:
The truth about getting old
Growing up in South Africa during apartheid
Getting turned on to alternative medicine by traditional healers in South Africa
The power of belief or placebo effect
"Good Medicine," a combination of both western and alternative medicine
Dr. Lipman becoming pre-diabetic by eating too much fruit and grains
Stop fearing healthy fats and calories
The majority of people thrive on a low carb diet
The blood sugar rollercoater… get off this ride
When you don't know what's going on, treat the gut
The majority of your serotonin (happy neurotransmitter) is made in your gut, not your brain
Testing and healing the gut (the four R's)
Inflammation is at the root of most diseases
How sleep is like taking out the trash for your brain
Why do most people neglect sleep?
Slow down and start meditating
The stress threshold
The easiest way to start meditating
Finding passion and meaning in your life (you don't need to quit your job)
Dr. Lipman's morning routine… a good day and a bad day
Learning to control your mind
Related links:
Sunwarrior <== 20% off all Sunwarrior products & free shipping over $50 (US only)
Raw Elements <== 10% off all Raw Elements products – Apply the code TUHP at checkout (free shipping over $100)
Dr. Frank Lipman – 10 Reasons You Feel Old and Get Fat (book)
Dr. Frank Lipman's website
Follow Dr. Frank Lipman on Facebook, Instagram, and YouTube
Dr. Frank Lipman – The New Health Rules (book)
Dr. Frank Lipman – Revive (book)
Dr. Frank Lipman – Total Renewal (book)
Harriet Beinfield – Between Heaven and Earth: A Guide to Chinese Medicine (book)
Jon Kabat-Zinn – Full Catastrophe Living (book)
Headspace guided mediation app
Calm guided meditation app
Simon Mills (books)
Related episodes:
316: Dr. William Li – Is Your Diet Feeding Or Defeating Disease?
303: Emily Fletcher – Stress Less… Accomplish More, Mindfulness vs. Meditation, Secrets To Manifesting
294: Dr. Sara Gottfried – Brain Body Diet, Start To Surrender, Reset With Intermittent Fasting
289: Dr. David Perlmutter – Brain Maker • Reconnecting With Nature • Exercise Impacts The Microbiome
126: Jimmy Moore – The Ketogenic Diet & The Health Benefits Of Being In Ketosis • Fasting 101
Note: Some of the links above are affiliate links. Making a purchase through these links won't cost you anything but we will receive a small commission. This is an easy, free way of supporting the podcast. Thank you!
How can you support our podcast?
1. Apple users, please subscribe and review our show on Apple Podcasts, we make sure to read them all. Android users, be sure to subscribe to our show on Google Podcasts. Subscribers never miss any of the action 😉
2. Tell a friend about The Ultimate Health Podcast. They will surely thank you later. You can use the envelope button below to email a friend or tell them about TUHP in person.
3. Join TUHP Facebook community (FREE). This is where we all stay in touch and ask questions in between episodes. Join our community.
4. Follow our adventures on our favourite social media platform, Instagram.
5. Download The Ultimate Health Podcast app (FREE). This way you'll have our whole library of episodes right at your fingertips. Download our iOS/Apple app or our Android app.
6. Share using the buttons below.
Thank you!