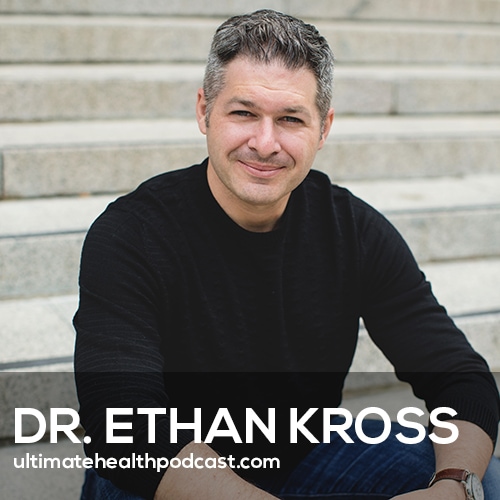 Dr. Ethan Kross (IG: @ethankross) is one of the world's leading experts on controlling the conscious mind. An award-winning professor at the University of Michigan and the Ross School of Business, he is the director of the Emotion & Self Control Laboratory.

Ethan is the author of Chatter: The Voice in Our Head, Why It Matters, and How to Harness It.
If you're someone who's struggling with controlling the negative thoughts circling your mind – this conversation is going to give you the tools you need to take back control.
Watch the full video version of this conversation below.
In this episode, we discuss:
What it means to control your mind
The ability to experience negative thoughts & emotions
The importance of our inner voice
Animals experience learned helplessness
Useful tools to help shift your internal chatter
Practicing distanced self-talk
Normalizing the experience of chatter
The ability to time travel in our minds
How to feel without becoming overwhelmed
What happens when we overthink our problems?
The process of getting and providing support
Finding the right therapist for you
Teaching kids how to deal with their chatter
Forms of invisible support
Seeking out awe-inspiring experiences
Performing rituals helps us quiet chatter
Savouring positive experiences
Ethan's father taught him to focus inward
How Ethan coached himself through a threatening situation
Tools you can use during extreme moments of stress
Social media's impact on wellbeing
What makes someone a good chat advisor?
Show sponsors:
Oura Ring <== Buy the Oura Ring Generation 3 and get 6 free months of Oura membership
Just Thrive <== 15% off all Just Thrive products by using the code ultimatehealth at checkout
Paleovalley <== 15% off all Paleovalley products by using the code ultimatehealth at checkout
Related links:
Dr. Ethank Kross – Chatter (book)
Dr. Ethan Kross' website
Follow Dr. Ethan Kross on Instagram and Twitter
Dr. Jill Bolte Taylor (books)
​​Martin Seligman (books)
Rick Ankiel
Wade Boggs
Rafael Nadal
Related episodes:
How to Calm Your Anxiety & Release Stress | Dr. Ellen Vora (#471)
How to Reprogram Your Subconscious Mind to Create Lasting Transformation | Dr. Nicole LePera (#466)
How to Free Your Mind and Live a Full & Meaningful Life | Dr. Steven Hayes (#444)
Dr. Caroline Leaf on Eliminating Anxiety, Depression, and Intrusive Thoughts by Managing Your Mind (#402)
381: Dr. Dan Siegel – The Mind Is Broader Than The Brain
How can you support our podcast?
1. Apple users, please subscribe and review our show on Apple Podcasts, we make sure to read them all. Android users, be sure to subscribe to our show on Google Podcasts. Subscribers never miss any of the action 😉
2. If you'd prefer to watch vs listen to the interviews, head over to our YouTube channel and enjoy the full video conversations. Be sure and subscribe while you're there.
3. Tell a friend about The Ultimate Health Podcast. They will surely thank you later. You can use the envelope button below to email a friend or tell them about TUHP in person.
4. Join TUHP Facebook community (FREE). This is where we all stay in touch and ask questions in between episodes. Join our community.
5. Follow our adventures on our favourite social media platform, Instagram.
6. Download The Ultimate Health Podcast app (FREE). This way you'll have our whole library of episodes right at your fingertips. Download our iOS/Apple app or our Android app.
7. Share using the buttons below.
Thank you!