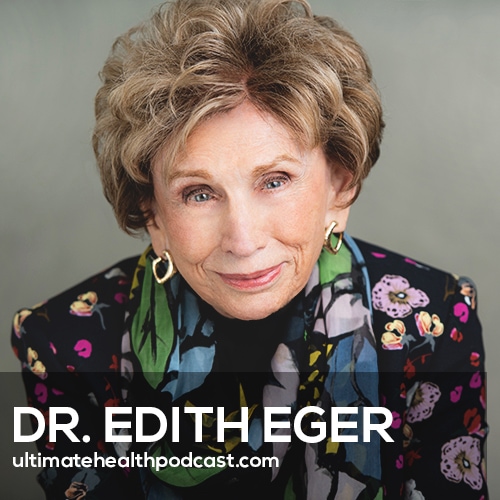 Dr. Edith "Edie" Eger (IG: @dr.editheger) is a sought-after clinical psychologist and lecturer. She helps individuals discard their limitations, discover their powers of self-renewal, and achieve things they previously thought were unattainable.
Using her own past as a Holocaust survivor and thriver as a powerful analogy, she inspires people to tap their full potential and shape their very best destinies.
Today we're chatting about Edie's latest book, The Gift.
Watch the full video version of this conversation below.
In this episode, we discuss:
Facing discrimination for being a Jew
We are born with joy and learn to hate
Edie recalls being taken to Auschwitz in 1944
Last words of advice from Edie's mother
Letting go of victim mentality
Curiosity helped Edie survive
Live in the present and never give up
Do you play enough?
The spirit never dies
The cherished wound
Relive the experience and revise your life
The positive impact of going back to Auschwitz
When you forgive, you free yourself
Finding hope in hopelessness
Daily life inside a concentration camp
The bond of sisters
The moment of liberation
Show sponsors:
Four Sigmatic <== Save up to 40% off Four Sigmatic Mushroom Coffee bundles
LMNT <== Get your LMNT Sample Pack for the cost of shipping (5 dollars in the US)
Related links:
Dr. Edith Eger – The Gift (book)
Dr. Edith Eger's website
Follow Dr. Edith Eger on Facebook, Instagram, and Twitter
Dr. Edith Eger – The Choice (book)
YPO
Oprah (books)
Alan Moskin
Related episodes:
Psychotherapist Reveals How to Be Mentally Strong in a World of Change & Uncertainty | Julia Samuel (#423)
How to Overcome Life's Obstacles | Anne Lamott (#417)
Tana Amen – The Relentless Courage of a Scared Child (#392)
Sarah Wilson – This One Wild and Precious Life (#385)
362: Lori Gottlieb – Maybe You Should Talk To Someone
How can you support our podcast?
1. Apple users, please subscribe and review our show on Apple Podcasts, we make sure to read them all. Android users, be sure to subscribe to our show on Google Podcasts. Subscribers never miss any of the action 😉
2. If you'd prefer to watch vs listen to the interviews, head over to our YouTube channel and enjoy the full video conversations. Be sure and subscribe while you're there.
3. Tell a friend about The Ultimate Health Podcast. They will surely thank you later. You can use the envelope button below to email a friend or tell them about TUHP in person.
4. Join TUHP Facebook community (FREE). This is where we all stay in touch and ask questions in between episodes. Join our community.
5. Follow our adventures on our favourite social media platform, Instagram.
6. Download The Ultimate Health Podcast app (FREE). This way you'll have our whole library of episodes right at your fingertips. Download our iOS/Apple app or our Android app.
7. Share using the buttons below.
Thank you!