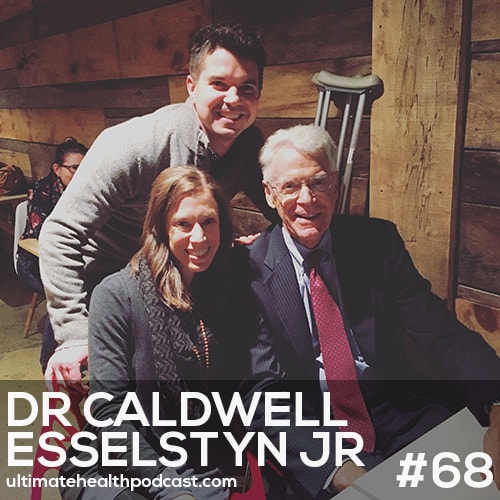 On today's minicast, we are speaking with Dr. Caldwell Esselstyn Jr., a medical doctor who promotes a plant-based diet. He is the author of Prevent and Reverse Heart Disease and is a former Olympic gold medalist in rowing.
Recently he was in Windsor doing a talk on his revolutionary, scientifically-proven, nutrition-based cure for heart disease. After the talk we were able to pull him aside for a short interview.
In this episode, we discuss:
Cardiovascular disease is preventable
Consuming oil is detrimental to your health
The magic molecule that protects our blood vessels
The Mediterranean diet isn't healthy
How to get through to a "healthy" younger population
Changes in the natural health world over the past 30 years
How Dr. Esselstyn's career evolved
Related links:
Sunwarrior <== 20% off all Sunwarrior products & free shipping over $50 (US only)
Dr. Caldwell Esselstyn Jr. – Prevent and Reverse Heart Disease (book)
Dr. Caldwell Esselstyn Jr.'s website
Follow Dr. Caldwell Esselstyn Jr. on Facebook, Instagram, and Twitter
Forks Over Knives (documentary)
Rip Esselstyn (Engine2Diet)
Related episodes:
018: Dr. Joel Kahn – Prevent & Reverse Heart Disease With Plants, Stop Fearing Flax & Soy, Whole Grains Are Healthy
096: Dr. Joel Kahn – The Gut-Heart Connection • Paleo vs. Low-Fat Vegan Diet • Top Heart Health Foods
166: Nina Teicholz – Stop Fearing Saturated Fat • What's The Deal With Cholesterol? • The Coconut Oil Controversy
178: Mark Sisson – Ketosis Curbs Hunger • The Healthiest Oil • Reboot Your Metabolism
066: Dr. Elson Haas – Nutrition, The Foundation Of Health | Stop Stress In Its Tracks | Key Nutrients That Support Immunity
Note: Some of the links above are affiliate links. Making a purchase through these links won't cost you anything but we will receive a small commission. This is an easy, free way of supporting the podcast. Thank you!
How can you support our podcast?
1. Apple users, please subscribe and review our show on Apple Podcasts, we make sure to read them all. Android users, be sure to subscribe to our show on Google Podcasts. Subscribers never miss any of the action 😉
2. Tell a friend about The Ultimate Health Podcast. They will surely thank you later. You can use the envelope button below to email a friend or tell them about TUHP in person.
3. Join TUHP Facebook community (FREE). This is where we all stay in touch and ask questions in between episodes. Join our community.
4. Follow our adventures on our favourite social media platform, Instagram.
5. Download The Ultimate Health Podcast app (FREE). This way you'll have our whole library of episodes right at your fingertips. Download our iOS/Apple app or our Android app.
6. Share using the buttons below.
Thank you!