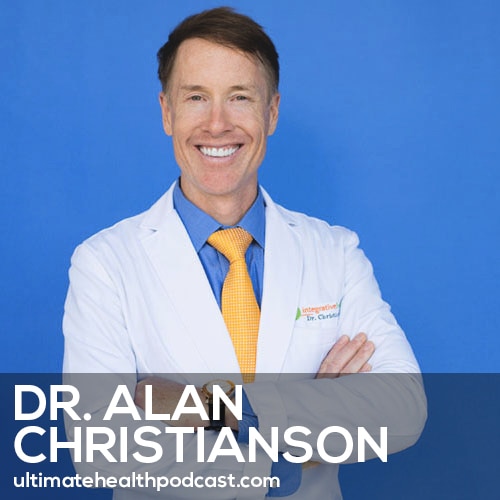 Dr. Alan Christianson (IG: @dralanchristianson) is a naturopathic medical doctor who specializes in natural endocrinology with a focus on thyroid disorders.
He's a New York Times bestselling author who's been named a Top Doctor in Phoenix magazine and has appeared on national TV shows and in numerous print media.
Alan founded Integrative Health, a physician group dedicated to helping people with thyroid disease and weight-loss resistance regain their health.
His latest book, The Thyroid Reset Diet, is the focus of today's conversation.
Watch the full video version of this conversation below.
In this episode, we discuss:
Dr. Christianson's unique perspective on treating the thyroid by limiting iodine
How long does the thyroid store iodine?
How someone without a thyroid regulates their iodine intake
Iodine fortification is linked to adults suffering from thyroid disease
Women have more cases of thyroid disease
Iodine supplementation in pregnancy does not improve mom's thyroid health
Iodine deficiency is no longer a modern world problem
Foods and products that contain iodine
The difference between conventional vs. organic dairy in terms of iodine exposure
The Thyroid Reset Diet
What are the safe upper limits of iodine intake?
Pink Himalayan salt has 2x the amount of iodine compared to iodized salt
Spirulina & chlorella contain reasonable amounts of iodine compared to problematic sea vegetables
The long-term effects of consuming sea vegetables in Japanese cultures
Why you should add squid steaks to your grocery list
Processed grain products are high in iodine
Is gluten having a negative impact on your thyroid?
Are thyroid antibodies a concern when healing Hashimoto's?
Goitrogenic foods wand thyroid disease
The new evidence about soy & thyroid health
Consuming soy may prevent the risk of breast cancer
Common cosmetics that contain iodine
Iodine vs. iodide… what's the difference?
Debunking topical iodine testing
How much iodine is in your medication?
Take a prenatal vitamin without iodine
Brazil nuts are a high source of selenium
Lifestyle factors are relevant for thyroid health
Healing thyroid disease: clinical outcomes
Show sponsors:
Alitura <== 20% off your first order of Alitura's life-changing skin care products by using the code ultimatehealth at checkout
Four Sigmatic <== Save up to 40% off Four Sigmatic Mushroom Coffee bundles
Beekeeper's Naturals <== 15% off all Beekeeper's Naturals products
Related links:
Dr. Alan Christianson – The Thyroid Reset Diet (book)
Dr. Alan Christianson's website
Follow Dr. Alan Christianson on Facebook, Instagram, and Twitter
Dr. Alan Christianson – The Metabolism Reset Diet (book)
Listen to Dr. Alan Christianson previously on TUHP (episode #290)
Diamond Crystal Kosher Salt
Celtic Sea Salt, Light Grey
Maldon Sea Salt
Jonathan Haidt (books)
Related episodes:
285: Dr. Izabella Wentz – Hashimoto's Food Pharmacology • Thyroid Testing • Stress, Trauma & Autoimmune Conditions
256: Dr. Datis Kharrazian – Why Do I Still Have Thyroid Symptoms? • Understanding Iodine • Vitamin D & Autoimmunity
254: Sarah Ballantyne – Pregnancy And Hypothyroidism • Reintroductions On AIP • The Cruciferous Vegetable Myth
156: Elle Russ – Reclaim Your Thyroid Health
119: Dr. Amy Myers – The Thyroid Connection • The Impact of Goitrogens • Hyper vs Hypothyroidism
How can you support our podcast?
1. Apple users, please subscribe and review our show on Apple Podcasts, we make sure to read them all. Android users, be sure to subscribe to our show on Google Podcasts. Subscribers never miss any of the action 😉
2. Tell a friend about The Ultimate Health Podcast. They will surely thank you later. You can use the envelope button below to email a friend or tell them about TUHP in person.
3. Join TUHP Facebook community (FREE). This is where we all stay in touch and ask questions in between episodes. Join our community.
4. Follow our adventures on our favourite social media platform, Instagram.
5. Download The Ultimate Health Podcast app (FREE). This way you'll have our whole library of episodes right at your fingertips. Download our iOS/Apple app or our Android app.
6. Share using the buttons below.
Thank you!