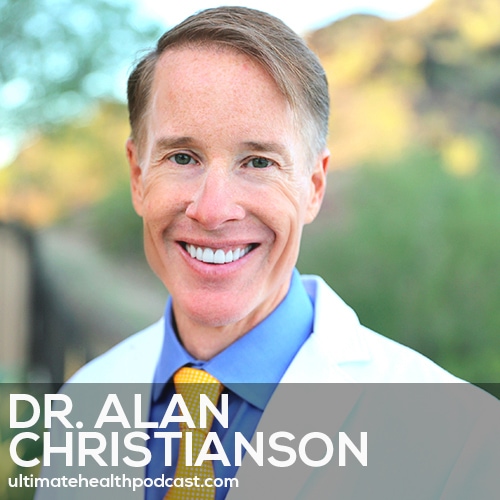 Dr. Alan Christianson (IG: @dralanchristianson) is a naturopathic endocrinologist who focuses on thyroid function, adrenal health, and metabolism. He has been actively practicing in Scottsdale since 1996 and is the founding physician behind Integrative Health.
Alan is a New York Times bestselling author whose books include The Adrenal Reset Diet, and the Complete Idiot's Guide to Thyroid Disease and the book we're focusing in on today, The Metabolism Reset Diet.
He regularly appears on national media like Dr. Oz, The Doctors, and The Today Show.
In this episode, we discuss:
Alan's story of growing up with cerebral palsy & epilepsy
Metabolism defined
What causes an overloaded liver?
Overloaded liver symptoms
The 4-Week Metabolism Reset Diet
Drinking two smoothies a day
The benefits of plant protein
Use the whole banana, including the peel
Aquafaba contains resistant starch
Health benefits of legumes
Why a satisfying dinner helps beat insomnia
Eat breakfast one hour after waking up
The main functions of the liver
Consume a variety of protein sources
Are you taking too many supplements?
Supplement quality matters
How much iodine do you need?
What is sleep jet lag?
Journaling before bed
Avoiding caffeine on the 4-week reset
Exercise during the reset
How much water should you drink, daily?
Show sponsors:
Organifi <== 20% off all Organifi products
Perfect Keto <== 20% off all Perfect Keto products (free shipping in the US)
Beekeeper's Naturals <== 15% off all Beekeeper's Naturals products (free shipping on orders $60 or more)
Sunwarrior <== 20% off all Sunwarrior products & free shipping over $50 (US only)
Related links:
Dr. Alan Christianson – The Metabolism Reset Diet (book)
Dr. Alan Christianson's website
Follow Dr. Alan Christianson on Facebook, Instagram, and Twitter
Dr. Alan Christianson (books)
Join The 7-Day Metabolism Reset Challenge
Dandy Blend
Related episodes:
256: Dr. Datis Kharrazian – Why Do I Still Have Thyroid Symptoms? • Understanding Iodine • Vitamin D & Autoimmunity
241: Dr. Aviva Romm – The Adrenal Thyroid Revolution • Permission To Pause • Embracing Adaptogens
178: Mark Sisson – Ketosis Curbs Hunger • The Healthiest Oil • Reboot Your Metabolism
164: Dr. Sara Gottfried – The Hormone Cure • Prepare For Menopause • The Importance Of Carbs
116: Dr. Michael Breus – The Mystery Of Sleep • What Is Your Chronotype? • The Best Pillow And Mattress
Note: Some of the links above are affiliate links. Making a purchase through these links won't cost you anything but we will receive a small commission. This is an easy, free way of supporting the podcast. Thank you!
How can you support our podcast?
1. Apple users, please subscribe and review our show on Apple Podcasts, we make sure to read them all. Android users, be sure to subscribe to our show on Google Podcasts. Subscribers never miss any of the action 😉
2. Tell a friend about The Ultimate Health Podcast. They will surely thank you later. You can use the envelope button below to email a friend or tell them about TUHP in person.
3. Join TUHP Facebook community (FREE). This is where we all stay in touch and ask questions in between episodes. Join our community.
4. Follow our adventures on our favourite social media platform, Instagram.
5. Download The Ultimate Health Podcast app (FREE). This way you'll have our whole library of episodes right at your fingertips. Download our iOS/Apple app or our Android app.
6. Share using the buttons below.
Thank you!