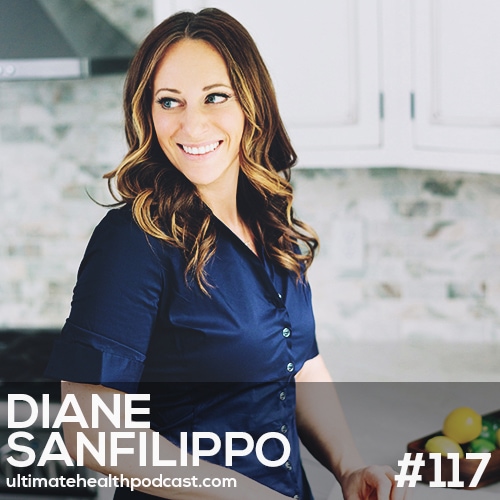 Diane Sanfilippo is the owner and founder of Balanced Bites, a certified nutrition consultant, and a two-time New York Times bestselling author of Practical Paleo and The 21-Day Sugar Detox. She is also the co-author of Mediterranean Paleo Cooking.
Diane co-hosts the top-rated weekly health podcast, The Balanced Bites Podcast.
Diane lives in San Francisco with her husband, Scott, and two fur kids.
In this episode, we discuss:
The fundamentals of paleo
White rice can be part of a healthy diet
Almost everything we know about good nutrition is wrong
How carbs fit into the paleo diet
Plants have built in defence mechanisms
The health benefits of eating paleo
Paleo approved sweeteners
The paleo diet vs. the ketogenic diet
The story of fats
The less saturated the fat, the less stable it is
Healthy fats you will want to start eating
What Diane eats in a day
Paleo snacks in between meals or on the run
Prioritizing yourself first thing in the morning
As a busy entrepreneur, how Diane prevents burnout
Related links:
Raw Elements <== 10% off all Raw Elements products – Apply the code TUHP at checkout (free shipping over $100)*
Sunwarrior <== 20% off all Sunwarrior products & free shipping over $50 (US only)
Diane Sanfilippo – Practical Paleo, 2nd Edition (book)
Diane Sanfilippo's website – Balanced Bites
Follow Diane Sanfilippo (Balanced Bites) on Facebook, Instagram, and Twitter
The Balanced Bites Podcast
Diane Sanfilippo – The 21-Day Sugar Detox (book)
Diane Sanfilippo – The 21-Day Sugar Detox Cookbook (book)
Caitlin Weeks, Chef Nabil Boumrar, & Diane Sanfilippo – Mediterranean Paleo Cooking (book)
Diane's 6-Minute Salmon
Robb Wolf (books)
Chris Masterjohn – The Daily Lipid
Related episodes:
145: Robb Wolf – You Can't Cheat On Your Diet • Wired To Eat • Is The Paleo Diet Right For Everyone?
220: Sarah Ballantyne – Paleo Is Almost A Plant-Based Diet • Prioritize Sleep • AIP 101
304: Trina Felber – Primal Skincare, Remineralize Your Teeth, Foods That Cause Acne
247: Chris Kresser – Unconventional Medicine • Cultivating More Joy And Pleasure • The Future of Healthcare
096: Dr. Joel Kahn – The Gut-Heart Connection • Paleo vs. Low-Fat Vegan Diet • Top Heart Health Foods
Note: Some of the links above are affiliate links. Making a purchase through these links won't cost you anything but we will receive a small commission. This is an easy, free way of supporting the podcast. Thank you!
How can you support our podcast?
1. Apple users, please subscribe and review our show on Apple Podcasts, we make sure to read them all. Android users, be sure to subscribe to our show on Google Podcasts. Subscribers never miss any of the action 😉
2. Tell a friend about The Ultimate Health Podcast. They will surely thank you later. You can use the envelope button below to email a friend or tell them about TUHP in person.
3. Join TUHP Facebook community (FREE). This is where we all stay in touch and ask questions in between episodes. Join our community.
4. Follow our adventures on our favourite social media platform, Instagram.
5. Download The Ultimate Health Podcast app (FREE). This way you'll have our whole library of episodes right at your fingertips. Download our iOS/Apple app or our Android app.
6. Share using the buttons below.
Thank you!