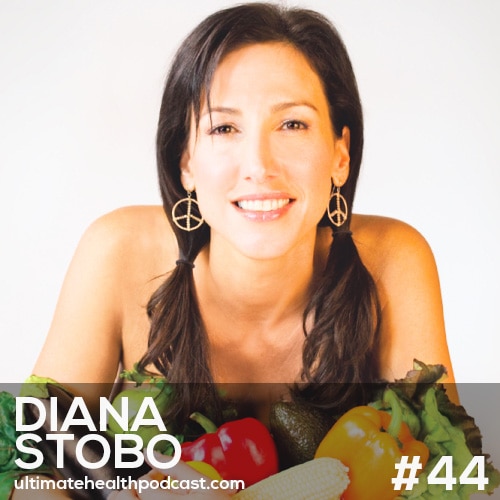 On today's episode, we are chatting with Diana Stobo, award-winning author of Get Naked Fast!
Her health journey has evolved extensively over the years after healing and losing 100 lbs on a raw food diet. Diana is now embracing a healthy lifestyle that is balanced and sustainable, for her.
Recently, she has been focusing on her retreat property in Costa Rica, recreating "heaven on earth."
In this episode, we discuss:
Diana's journey, losing 100 pounds and regaining her health
There are so many ways to heal yourself, everyone has a different modality
Diana's Morning Glory Smoothie
Not getting caught up in the dogma in the raw food world
As a health leader, you need to be transparent with your lifestyle
The raw, vegan diet isn't for everyone
Organic & non-gmo labels don't tell the whole story
We all have different dietary needs
To consume or not to consume… meat
Is detoxing good?
It's time to stop looking at the scale
Digestive bitters are a life changer
Nut milk, made easy
Related Links:
Diana Stobo's website
The Retreat – A Diana Stobo property (Costa Rica)
Follow Diana Stobo on Facebook, Instagram, and Twitter
Diana Stobo – Get Naked Fast! (book)
Diana Stobo – Naked Bliss (book)
Nut Milk Bag
Diana Stobo's Digestive Bitters
Listen to David Wolfe previously on TUHP (episode #014)
Charlie Trotter + Roxanne Klein – Raw (book)
Dr. Mark Hyman – Why I am a Pegan – or Paleo-Vegan – and Why You Should Be Too! (blog post)
Ejuva – Herbal Body Cleanse
Suja Juice
David Wolfe – Eating for Beauty (book)
Related episodes:
276: Chris Wark – Chris Beat Cancer • Toxic Emotions Suppress Immunity • Gratitude Is The Secret To Happiness
136: Julie Daniluk – Hot Detox • Spark Your Digestion With Herbs & Spices • We Haven't Evolved To Eat Cold Food
074: Dr. Mark Hyman – Create An Emergency Food Pack | The Pegan Diet | Sugar Is The New Fat
038: Take A Stand Against GMOs (Eat Organic) | Make Green Foods A Priority
011: Jason Wrobel – High Raw, Vegan Living For High Energy
Note: Some of the links above are affiliate links. Making a purchase through these links won't cost you anything but we will receive a small commission. This is an easy, free way of supporting the podcast. Thank you!
How can you support our podcast?
1. Apple users, please subscribe and review our show on Apple Podcasts, we make sure to read them all. Android users, be sure to subscribe to our show on Google Podcasts. Subscribers never miss any of the action 😉
2. Tell a friend about The Ultimate Health Podcast. They will surely thank you later. You can use the envelope button below to email a friend or tell them about TUHP in person.
3. Join TUHP Facebook community (FREE). This is where we all stay in touch and ask questions in between episodes. Join our community.
4. Follow our adventures on our favourite social media platform, Instagram.
5. Download The Ultimate Health Podcast app (FREE). This way you'll have our whole library of episodes right at your fingertips. Download our iOS/Apple app or our Android app.
6. Share using the buttons below.
Thank you!