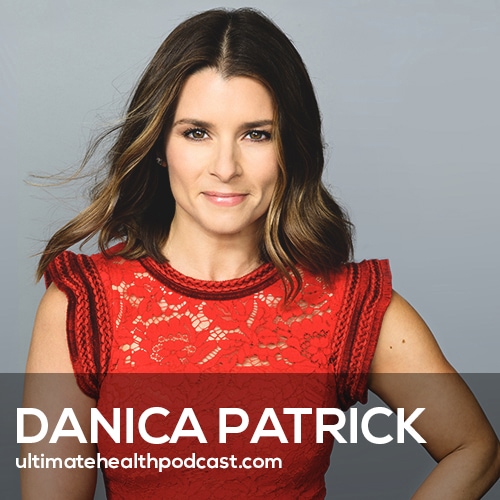 As a racecar driver, Danica Patrick (IG: @danicapatrick) broke barriers and set records with her on-track performance.
Her next chapter involves good food, great wine, fitness, and helping others achieve their goals.
Danica is the author of Pretty Intense and is the host and creator of the well-established, Pretty Intense Podcast.
She also serves as the sole proprietor of Somnium, a vineyard in Napa Valley, California.
Watch the full video version of this conversation below.
In this episode, we discuss:
The story of how Danica got into racing
Leaving high school to pursue racing in England
Following your intuition
The difference between open-wheel racing and closed-wheel racing
Danica's experience winning the Indy Japan 300
Experiencing the rush from winning
If you believe it, you can achieve it
Danica's family played a huge role in supporting her goals
Shifting into the health and wellness realm
Quitting dairy & gluten in 2013 and its impact on performance
The scoop on adaptogens
Plants are making a comeback
"Alternative culture" is becoming more mainstream
We the masses are the power
Quantum physics and understanding the nature of reality
The power of the mind
Every time you have a challenge… learn the lesson
Tuning into your spiritual frequency
How fluoride impacts the pineal gland
Sitting down with a functional medicine doctor
Being on the same page as your partner
The value of gardening
Dealing with hormonal issues & weight gain after IVF
Diagnose "the car" with testing
Show sponsors:
BiOptimizers <== 10% off BiOptimizers MassZymes by using the code ultimatehealth10 at checkout
Paleovalley <== 15% off all Paleovalley products by using the code ultimatehealth at checkout
Organifi <== 20% off all Organifi products
Related links:
Danica Patrick – Pretty Intense (book)
Danica Patrick's website
Follow Danica Patrick on Facebook, Instagram, and Twitter
Danica Patrick Pretty Intense Podcast
Somnium Wine
Bobby Rahal
Beam
Snake River Farms
Zach Bush
Nassim Haramein
Linda Goodman (books)
Dolores Cannon (books)
Bruce Lipton (books)
Listen to Bruce Lipton previously on TUHP (episode #142 and #240)
Jordan Peterson (books)
Ben Greenfield – Boundless (book)
Tim Ferriss (books)
Dave Asprey (books)
Listen to Dave Asprey previously on TUHP (episode #061, #159, #305 and #389)
Serena Poon
David Sinclair – Lifespan (book)
Related episodes:
The Power of Speaking Your Truth and How It Positively Impacts Your Health | Fearne Cotton (#418)
Annaka Harris on What Is Consciousness? Where Is It Located? Mysteries Unravelled (#412)
308: Hal Elrod – The Miracle Equation, Become Emotionally Invincible, Do Work That You Love
296: Dr. Joe Dispenza – Becoming Supernatural, Reprogram Your Mind, Trust Your Intuition
241: Dr. Aviva Romm – The Adrenal Thyroid Revolution • Permission To Pause • Embracing Adaptogens
How can you support our podcast?
1. Apple users, please subscribe and review our show on Apple Podcasts, we make sure to read them all. Android users, be sure to subscribe to our show on Google Podcasts. Subscribers never miss any of the action 😉
2. If you'd prefer to watch vs listen to the interviews, head over to our YouTube channel and enjoy the full video conversations. Be sure and subscribe while you're there.
3. Tell a friend about The Ultimate Health Podcast. They will surely thank you later. You can use the envelope button below to email a friend or tell them about TUHP in person.
4. Join TUHP Facebook community (FREE). This is where we all stay in touch and ask questions in between episodes. Join our community.
5. Follow our adventures on our favourite social media platform, Instagram.
6. Download The Ultimate Health Podcast app (FREE). This way you'll have our whole library of episodes right at your fingertips. Download our iOS/Apple app or our Android app.
7. Share using the buttons below.
Thank you!