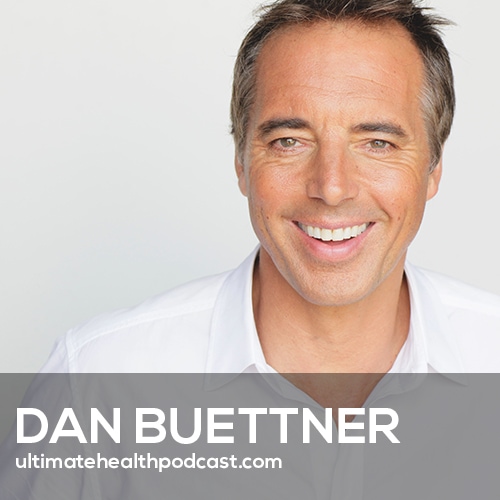 Dan Buettner (IG: @danbuettner) is a National Geographic Explorer, a writer, and the founder of Blue Zones.
He just released a new book, The Blue Zones Challenge.
Watch the full video version of this conversation below.

In this episode, we discuss:
If you're overweight & unhealthy… it's not your fault
Making the healthy choice, the easy choice
Keep healthy food visible in the kitchen
Blue Zones foods to include in your diet
The 5 Blue Zones
Globalization is deteriorating the Blue Zones
What is the grandmother effect?
Abolishing mandatory retirement
Getting clear on your own sense of purpose
Dan's thoughts on supplements
Do people in the Blue Zones intermittent fast?
3 kitchen hacks to increase longevity
Curate your social circle
Tips on how to make friends as you age
How much meat is eaten in the Blue Zones?
Pescatarians and vegans live the longest in America
Daily life in the Blue Zones
Moving every 20 minutes
Focusing on sacred rituals to reduce stress
Taking The Blue Zones Challenge
Maximizing your life expectancy by avoiding risky behaviour
Show sponsors:
Organifi <== 20% off all Organifi products by using the code ultimatehealth at checkout
AquaOmega <== 20% off the world's best omega-3 supplements by using the code ultimate20 at checkout
Paleovalley <== 15% off all Paleovalley products by using the code ultimatehealth at checkout
LMNT <== Get your LMNT Sample Pack for the cost of shipping (5 dollars in the US)
Related links:
Dan Buettner – The Blue Zones Challenge (book)
Dan Buettner's website (Blue Zones)
Follow Dan Buettner on Facebook, Instagram, and Twitter
Dan Buettner (books)
Listen to Dan Buettner previously on TUHP (episode #170)
National Institute on Aging (NIH)
AARP
Related episodes:
Dr. Valter Longo on How to Get All the Health Benefits of Fasting Without the Hunger (#442)
Dr. Andrew Weil SHARES His Personal Secrets for Staying Mentally Sharp and AGING IN REVERSE (#430)
Lose Fat & Reverse Aging by Eating Two Meals a Day | Mark Sisson (#416)
378: Marta Zaraska – Growing Young Through Friendship, Optimism & Kindness
287: Dr. Steven Gundry – The Longevity Paradox • Exercise Impacts Your Microbiome • Top Sources Of Polyphenols
How can you support our podcast?
1. Apple users, please subscribe and review our show on Apple Podcasts, we make sure to read them all. Android users, be sure to subscribe to our show on Google Podcasts. Subscribers never miss any of the action 😉
2. If you'd prefer to watch vs listen to the interviews, head over to our YouTube channel and enjoy the full video conversations. Be sure and subscribe while you're there.
3. Tell a friend about The Ultimate Health Podcast. They will surely thank you later. You can use the envelope button below to email a friend or tell them about TUHP in person.
4. Join TUHP Facebook community (FREE). This is where we all stay in touch and ask questions in between episodes. Join our community.
5. Follow our adventures on our favourite social media platform, Instagram.
6. Download The Ultimate Health Podcast app (FREE). This way you'll have our whole library of episodes right at your fingertips. Download our iOS/Apple app or our Android app.
7. Share using the buttons below.
Thank you!