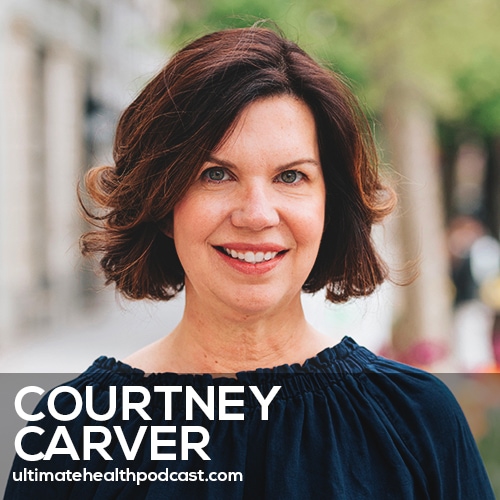 Courtney Carver writes about dressing and living with less on bemorewithless.com & @bemorewithless on Instagram.
Her new book is Project 333: The Minimalist Fashion Challenge That Proves Less Really Is So Much More.
(Subscribe in Apple Podcasts)
(Subscribe in Google Podcasts)
In this episode, we discuss:
The idea of simple living
Courtney's MS diagnosis in 2006
How Courtney started reducing the stress in her life
Paying attention to how your body responds to food
Debt = stress
Changing your behaviour around money
Decluttering your home
Downsizing your life is very freeing, not fearful
Finding ways to connect with others without spending money
Replace shopping with self-care practices
Blogging is a powerful way to connect
The origin of Project 333
Choosing 33 clothing items for 3 months
How a simple closet challenge can impact your mental health
Simplicity makes your life more enjoyable
Managing digital clutter
Planning digital free time in your day
Transitioning out of the advertising world
Simplicity is the way back to love
Letting go of alcohol
What is the slowdown filter?
Show up for yourself
Show sponsors:
BLUblox <== 15% off the world's most advanced blue light glasses
Organifi <== 20% off all Organifi products
Joovv <== purchase a Joovv device using our link and receive a free gift
Beekeeper's Naturals <== 15% off all Beekeeper's Naturals products (free shipping on orders $60 or more)
Related links:
Courtney Carver – Project 333 (book)
Courtney Carver's website (Be More with Less)
Follow Courtney Carver on Facebook and Instagram
Courtney Carver – Soulful Simplicity (book)
Soul and Wit Podcast (Courtney & Bailey Carver)
Dave Ramsey – Total Money Makeover (book)
Zen Habits
Headspace
Related episodes:
344: Rob Greenfield – Living A Simple & Sustainable Life
343: Bea Johnson – Zero Waste Home, Experiences Over Stuff, Minimizing Junk Mail
307: Elizabeth Willard Thames aka Mrs. Frugalwoods – Financial Independence Through Simple Living
286: Cal Newport – Digital Minimalism • Create Time For Solitude • Stop Socializing On Social Media
268: Sarah Wilson – Zero Waste Cooking • Minimal Consumption • Start Thinking Differently
Note: Some of the links above are affiliate links. Making a purchase through these links won't cost you anything but we will receive a small commission. This is an easy, free way of supporting the podcast. Thank you!
How can you support our podcast?
1. Apple users, please subscribe and review our show on Apple Podcasts, we make sure to read them all. Android users, be sure to subscribe to our show on Google Podcasts. Subscribers never miss any of the action 😉
2. Tell a friend about The Ultimate Health Podcast. They will surely thank you later. You can use the envelope button below to email a friend or tell them about TUHP in person.
3. Join TUHP Facebook community (FREE). This is where we all stay in touch and ask questions in between episodes. Join our community.
4. Follow our adventures on our favourite social media platform, Instagram.
5. Download The Ultimate Health Podcast app (FREE). This way you'll have our whole library of episodes right at your fingertips. Download our iOS/Apple app or our Android app.
6. Share using the buttons below.
Thank you!