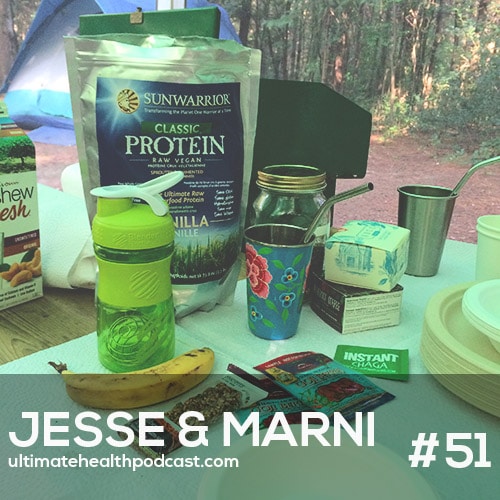 Today's minicast comes to you from the great outdoors. We took out the mic for a fireside chat. A serious storm was brewing during the recording, so you may hear some thunder in the background.
Take a seat, close your eyes, and it will be like you are right there with us.
Enjoy the mini campcast!
In this episode, we discuss:
Essentials for your next camping (glamping) trip
Meals Marni prepared ahead of time + superfoods & snacks
An uninvited guest in the middle of the night
Marni's homemade bug spray recipe
A list of items we wish we had brought
Watermelon + axe = ?
Related Links:
Sunwarrior
Four Sigmatic
Hilary's Eat Well (veggie burgers)
Food For Life – Ezekiel Sprouted Whole Grain English Muffins
Manitoba Harvest – Hemp Heart Bites
Two Moms In The Raw (Now called Soul Sprouts)
Giddy yoyo (chocolate bars)
Related episodes:
213: Focus Friday – Healthy Travel Toolkit
057: Planecast – Flying Healthy (minicast)
005: Julie Morris – Optimizing Your Health With Superfoods
225: Focus Friday – Understanding Adaptogens
041: Nadine Artemis – The Science & Magic Of Essential Oils | Stop Using Soap On Your Face | Combat Cellulite, Naturally
Note: Some of the links above are affiliate links. Making a purchase through these links won't cost you anything but we will receive a small commission. This is an easy, free way of supporting the podcast. Thank you!
How can you support our podcast?
1. Apple users, please subscribe and review our show on Apple Podcasts, we make sure to read them all. Android users, be sure to subscribe to our show on Google Podcasts. Subscribers never miss any of the action 😉
2. Tell a friend about The Ultimate Health Podcast. They will surely thank you later. You can use the envelope button below to email a friend or tell them about TUHP in person.
3. Join TUHP Facebook community (FREE). This is where we all stay in touch and ask questions in between episodes. Join our community.
4. Follow our adventures on our favourite social media platform, Instagram.
5. Download The Ultimate Health Podcast app (FREE). This way you'll have our whole library of episodes right at your fingertips. Download our iOS/Apple app or our Android app.
6. Share using the buttons below.
Thank you!