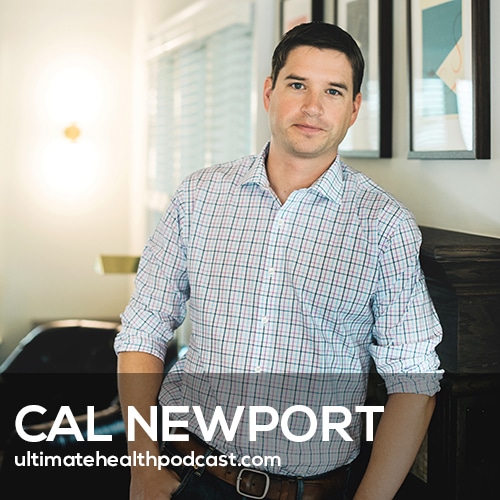 Cal Newport is an associate professor of computer science at Georgetown University, where he specializes in the theory of distributed systems, as well as a New York Times bestselling author who writes for a broader audience about the intersection of technology and culture.
He's the author of seven books, including Digital Minimalism and Deep Work, which have been published in over thirty languages.
Cal's also a regular contributor on these topics to national publications such as The New Yorker, The New York Times, and Wired, and is a frequent guest on NPR.
His blog, Study Hacks, which he's been publishing since 2007, attracts over three million visits a year and his podcast, Deep Questions with Cal Newport, has just surpassed 1 million downloads after launching in May 2020.
Today we're discussing topics from Cal's latest book, A World Without Email.
Watch the full video version of this conversation below.
In this episode, we discuss:
A world without email
The importance of undistracted focus
The history of email
What is the hyperactive hive mind?
The influence of smartphones on email response times
Solve the problem by fixing the processes
Clarity trumps accessibility
Knowledge work is different than industrial work
When the hive mind style of interaction works
Process redesign is a pain in the short-term but worth it in the long-term
The older model of doing less
The artificial way of collaborating
It's a cognitive catastrophe to check your inbox & Slack every 5-6 minutes
Set up a communication protocol
The misinterpretation of email communication
How to resolve inbox ping-pong
Email filters vs. email autoresponders
Overhaul your email inbox
How to deal with non-interactive emails
Email addresses should be tied to a function not an individual
Setting boundaries for responding to emails
It's the workflow, not the inbox
Cal's recommendations for scheduling software
The future of communication & productivity
Show sponsors:
BLUblox <== 15% off the world's most advanced blue light glasses
Paleovalley <== 15% off all Paleovalley products by using the code ultimatehealth at checkout
Organifi <== 20% off all Organifi products
Related links:
Cal Newport – A World Without Email (book)
Cal Newport's website
Cal Newport – Digital Minimalism (book)
Cal Newport – Deep Work (book)
Cal Newport (books)
Deep Questions with Cal Newport (podcast)
Listen to Cal Newport previously on TUHP (episode #286)
Leslie Perlow – Sleeping With Your Smartphone (book)
Tim Ferriss (books)
Merlin Mann – Inbox Zero
Slack
Cal Newport – Slack Is The Right Tool For The Wrong Way To Work (The New Yorker article)
Peter Drucker (books)
David Allen (books)
Henry Ford
Trello
Calendly
Rescue Time
Dave Ramsey (books)
Instapaper
Unroll.me
Acuity Scheduling
OnceHub (Schedule Once)
Related episodes:
355: Celeste Headlee – Break Away From Overworking, Overdoing, & Underliving
318: Michael Hyatt – Achieve More By Doing Less, Work Productivity Hacks, The Power Of Constraints
298: Kate Northrup – Do Less, Surrender Your Control, Yoga Nidra
250: Greg McKeown – Essentialism • The Joy of Missing Out (JOMO) • The Cost of Saying Yes
097: John Lee Dumas – A Solid Morning Routine Begins The Night Before • Don't Fall Prey To Imposter Syndrome • Setting and accomplishing BIG goals
Cal Newport photo credit: Penny Gray Photography
Note: Some of the links above are affiliate links. Making a purchase through these links won't cost you anything but we will receive a small commission. This is an easy, free way of supporting the podcast. Thank you!
How can you support our podcast?
1. Apple users, please subscribe and review our show on Apple Podcasts, we make sure to read them all. Android users, be sure to subscribe to our show on Google Podcasts. Subscribers never miss any of the action 😉
2. Tell a friend about The Ultimate Health Podcast. They will surely thank you later. You can use the envelope button below to email a friend or tell them about TUHP in person.
3. Join TUHP Facebook community (FREE). This is where we all stay in touch and ask questions in between episodes. Join our community.
4. Follow our adventures on our favourite social media platform, Instagram.
5. Download The Ultimate Health Podcast app (FREE). This way you'll have our whole library of episodes right at your fingertips. Download our iOS/Apple app or our Android app.
6. Share using the buttons below.
Thank you!