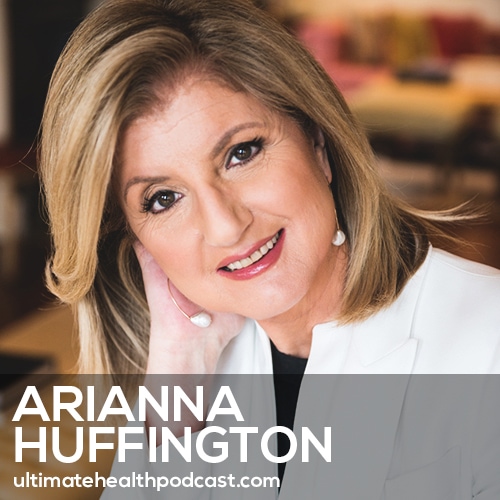 Arianna Huffington (IG: @ariannahuff) is the founder and CEO of Thrive Global, the founder of The Huffington Post, and the author of 15 books, including, most recently, Thrive and The Sleep Revolution.
In 2016, she launched Thrive Global, a leading behaviour change tech company with the mission of changing the way we work and live by ending the collective delusion that burnout is the price we must pay for success.
She has been named to Time Magazine's list of the world's 100 most influential people and the Forbes Most Powerful Women list.
Watch the full video version of this conversation below.
In this episode, we discuss:
How hard it is to change behaviours
Microsteps are based on the 60 second concept
The judgement free zone
Picking a time of day to unplug and recharge
There is no microstep too small
When we feel successful, we want to do better
Having an accountability buddy for inspiration and motivation
Failure is a stepping stone to success
Be open to possibilities
Connecting with your intuition
Heartbreak leads to some of the best things in our lives
Working mothers are struggling during the pandemic
Arianna's success as a writer to starting The Huffington Post and Thrive Global
What is habit stacking?
Sleep is a keystone habit
The value of downtime
Arianna being diagnosed with burnout in 2007
We need 7-9 hours of sleep
A power nap can restore you
If you can breathe, you can meditate
Mindfulness as part of your busy day
The difference between stacking microsteps and multitasking
Arianna's 30 minute transition before sleep
Keep improving your habits every day
Giving yourself a break
Getting creative with our addictions
Show sponsors:
Organifi <== 20% off all Organifi products
Paleovalley <== 15% off all Paleovalley products by using the code ultimatehealth at checkout
Related links:
Marina Khidekel (forward & contributions by Arianna Huffington) – Your Time to Thrive (book)
Arianna Huffington's website
Follow Arianna Huffington on Facebook, Instagram, Twitter, and LinkedIn
Thrive Global
The Huffington Post
Arianna Huffington (books)
Listen to Arianna Huffington previously on TUHP (episode #107)
Oura Ring
Margaret Wise Brown, Clement Hurd – Goodnight Moon (book)
Arianna Huffington – Goodnight Smartphone (audible book)
Meditative Story Podcast by WaitWhat + Thrive Global
Succession
Bridgerton
Related episodes:
374: Dr. Jud Brewer – The Craving Mind, Finding Joy In Meditation, Overcoming Addictions
358: Jack Canfield – The Success Principles
337: Dr. Jennifer Ashton – The Self-Care Solution
336: John Assaraf – Innercise, Goal Setting, Are You Committed?
238: Tara Mackey – WILD Habits • Natural Ways To Calm Your Anxiety • Approaching Gratitude Differently
Note: Some of the links above are affiliate links. Making a purchase through these links won't cost you anything but we will receive a small commission. This is an easy, free way of supporting the podcast. Thank you!
How can you support our podcast?
1. Apple users, please subscribe and review our show on Apple Podcasts, we make sure to read them all. Android users, be sure to subscribe to our show on Google Podcasts. Subscribers never miss any of the action 😉
2. Tell a friend about The Ultimate Health Podcast. They will surely thank you later. You can use the envelope button below to email a friend or tell them about TUHP in person.
3. Join TUHP Facebook community (FREE). This is where we all stay in touch and ask questions in between episodes. Join our community.
4. Follow our adventures on our favourite social media platform, Instagram.
5. Download The Ultimate Health Podcast app (FREE). This way you'll have our whole library of episodes right at your fingertips. Download our iOS/Apple app or our Android app.
6. Share using the buttons below.
Thank you!