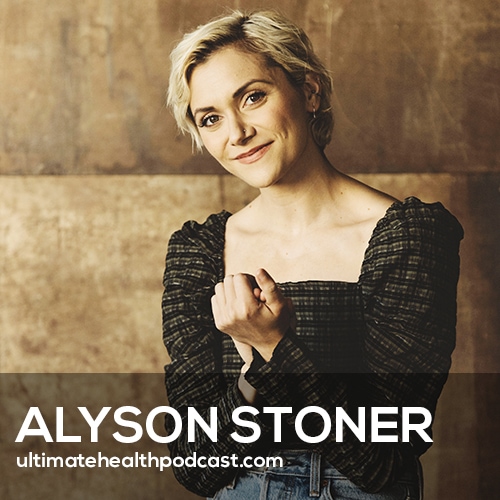 Alyson Stoner (IG: @alysonstoner) is a multi-disciplinary artist, published author, and global speaker. She is a co-founder of Movement Genius, a digital platform using movement to improve mental and emotional health.
During her childhood years, Alyson performed in 200+ films, TV shows, and tours. She remains active in the voiceover world and can be heard in "The Incredibles 2," Amazon's "Pete the Cat," and "Lego Batman."
Watch the full video version of this conversation below.
In this episode, we discuss:
Alyson's early roots into the entertainment industry
Explicit pressure vs. implicit pressure
Noticing behaviours around food restriction & exercise obsession
Going to rehab for an eating disorder
What is alexithymia?
It's important to slow down and refresh
The lack of support within the entertainment industry & what needs to change
Can you navigate the entertainment industry in a healthy way?
How to show up for someone dealing with body dysmorphia
Details of the recovery process
Alyson's mixed feelings about returning to entertainment after rehab
The fear of plateauing
Be intentional about balancing life
Using somatic principles to create a state of wellbeing
The art of learning how to say no
Going plant-based improved Alyson's mood
Movement Genius works with licensed somatic psychotherapists
The goal of trauma informed movement
Using equine therapy to treat eating disorders
Understanding adult attachment styles: dismissive/avoidant
Alyson's journey into minimalism
Alyson embracing her sexual identity/coming out
Showing faith without using words
Hold tightly loosely
Show sponsors:
BiOptimizers <== 10% off BiOptimizers MassZymes by using the code ultimatehealth10 at checkout
Paleovalley <== 15% off all Paleovalley products by using the code ultimatehealth at checkout
Organifi <== 20% off all Organifi products
Related links:
Alyson Stoner – Mind Body Pride (book)
Alsyon Stoner's website
Follow Alyson Stoner on Facebook, Instagram, and Twitter
Movement Genius
Alyson Stoner (IMDB)
Alyson Stoner – How I Embraced My Sexual Identity (article)
Related episodes:
The Power of Speaking Your Truth and How It Positively Impacts Your Health | Fearne Cotton (#418)
Mayim Bialik on Owning Your Truth & Living Life on Your Own Terms (#410)
Melissa Ambrosini on How to Stop Comparing Yourself to Others and Be Genuinely Happy (#407)
Laura Prepon on Healing With Real Food (#406)
Alicia Silverstone On Living A Responsible And Ethical Life, Waldorf Education, And Being Famous (#384)
How can you support our podcast?
1. Apple users, please subscribe and review our show on Apple Podcasts, we make sure to read them all. Android users, be sure to subscribe to our show on Google Podcasts. Subscribers never miss any of the action 😉
2. If you'd prefer to watch vs listen to the interviews, head over to our YouTube channel and enjoy the full video conversations. Be sure and subscribe while you're there.
3. Tell a friend about The Ultimate Health Podcast. They will surely thank you later. You can use the envelope button below to email a friend or tell them about TUHP in person.
4. Join TUHP Facebook community (FREE). This is where we all stay in touch and ask questions in between episodes. Join our community.
5. Follow our adventures on our favourite social media platform, Instagram.
6. Download The Ultimate Health Podcast app (FREE). This way you'll have our whole library of episodes right at your fingertips. Download our iOS/Apple app or our Android app.
7. Share using the buttons below.
Thank you!